A discussion with Arisa Okehazama (composer) and Yoshiki Kobayashi (sound director) of The God of High School's soundtrack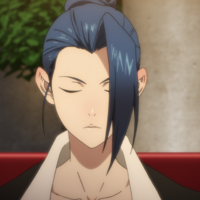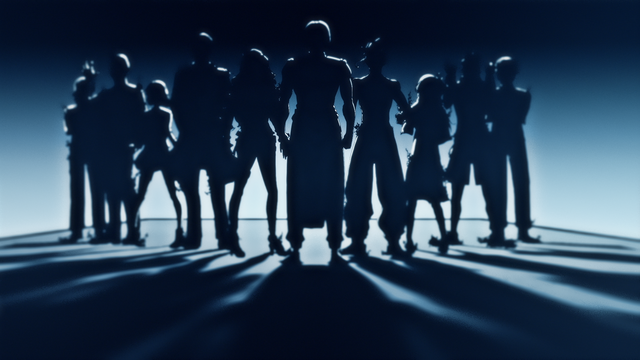 Now that The God of High School — the latest Crunchyroll Original — has premiered, we have a special treat for everyone excited for more! We recently had an opportunity to talk to Yoshiki Kobayashi (sound director) and Arisa Okehazama (composer) behind The God of High School's soundtrack and asked all sorts of questions about their careers, the process of creating soundtrack music, and what they think about The God of High School itself. Check out the interview below:
How did you become involved with The God of High School?
Arisa Okehazama: Sound Director Yoshiki Kobayashi introduced me to the series, and I thought it was really interesting, so I decided to take part in the project.
Yoshiki Kobayashi: It started with the Jujutsu Kaisen anime. That was my first time working with Director Park. I attended a scriptwriting meeting for Jujutsu Kaisen, and I had the chance to go out for a few drinks with Director Park after the meeting, at which time I first learned about GOH. It sounded as if he was facing some challenges with it, and he said nothing had been worked out for the music yet, so I voluntarily offered to work on the project. I wanted to be a part of it because talking with Director Park had made me take an interest in the idea of the anime, and it sounded like the music would present a good challenge.
Okehazama-san, what was it like working on an anime for the first time? Is it something you'd like to do again in the future?
Okehazama: It has a lot of songs and demanded a wide variety of melodic styles, so it was quite a challenge, but I learned a lot from the process and found it very fulfilling. In particular, I got to see traditional Korean instruments being played in the making of some of the songs, and I even got to touch them! It was a rare experience that I'm truly grateful for. I hope to work on many more anime productions in the future.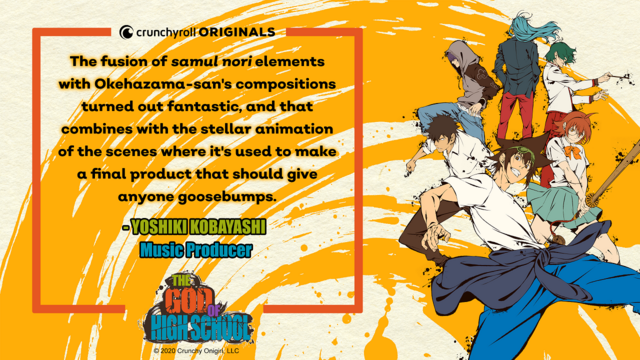 Kobayashi-san, how did working on God of High School compared with past projects? Is there anything that has made it unique?
Kobayashi: Since GOH is set in Korea, we used Korean music and folk instruments for it. I even went to Korea with Director Park and Okehazama-san, the music composer, where we attended a lecture by a specialist about Korean folk instruments and learned about samul nori. Samul nori is a very modern style of music using traditional instruments, so even modern people like us were delighted by it. The fusion of samul nori elements with Okehazama-san's compositions turned out fantastic, and that combines with the stellar animation of the scenes where it's used to make a final product that should give anyone goosebumps.
Are there any differences between composing for an anime as opposed to writing other types of music?
Kobayashi: I don't actually compose the music, so I can't give a clear answer on that part, but I know every composer is different and unique. So as I see it, the biggest difference between GOH and other anime productions is that Okehazama-san is composing the music for GOH.
Okehazama: In Japan, at least, I think there's a big difference between music for anime and music for things like movies and TV dramas. For instance, the worlds depicted in most anime productions are nothing like your ordinary, everyday real-life settings, so that calls for different instruments and unique sounds. Since The God of High School is set in Korea, we used Korean instruments for some of its songs.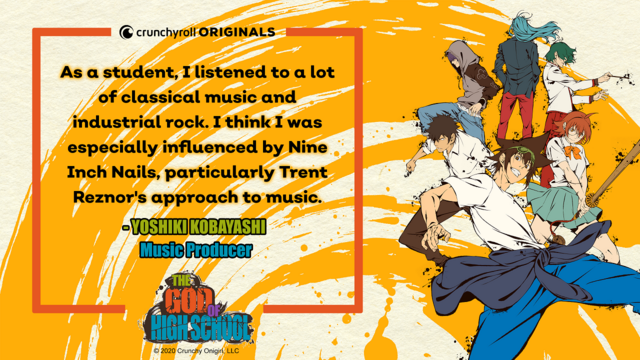 Do you have any music genres or musicians that inspire your own work?
Okehazama: I've always loved movies and dramas, so most of my inspiration has come from soundtracks.
Kobayashi: As a student, I listened to a lot of classical music and industrial rock. I think I was especially influenced by Nine Inch Nails, particularly Trent Reznor's approach to music.
Moving onto The God of High School itself, what initially stuck out to you about this project?
Okehazama: Aside from feeling happy to be taking part in the project, I mostly felt that since this would be my first time working on an anime, I wanted to create the best work possible.
Kobayashi: I always feel excited about every new project I become involved in, including GOH.
Were you familiar with the WEBTOON series before your involvement here, or was this your first experience with the story?
Kobayashi: I hadn't heard of it at all, but when I looked into it, I found it very interesting. I had also never experienced WEBTOON series before, so that was new to me.
Okehazama: I'm embarrassed to say so since it's such a huge series, but I was not familiar with it.
Between the comic, the mobile game, and the upcoming anime, The God of High School has been quite a hit. What do you think has attracted so many fans to it?
Okehazama: I think people are attracted to the unique appeal that each character has, and how the story unfolds in a way that's easy to follow.
Kobayashi: Every character in the series is unique, and the depiction of the battles is fascinating, so I can see how it's easy to get hooked on reading it.
Are there any scenes in particular that you're looking forward to seeing animated?
Okehazama: I'm personally looking forward to seeing the Mori vs. Daewi and Mori vs. Jegal battle scenes.
Kobayashi: The action scenes are everything! I'm especially looking forward to the scenes where samul nori is used.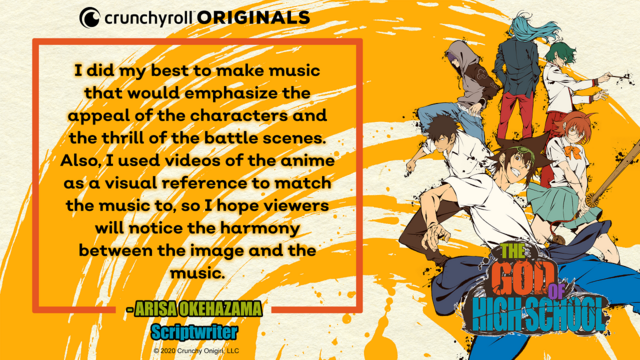 What was the overall feel you wanted to convey with The God of High School soundtrack?
Kobayashi: Just to make it awesome!
Okehazama: I did my best to make music that would emphasize the appeal of the characters and the thrill of the battle scenes. Also, I used videos of the anime as a visual reference to match the music to, so I hope viewers will notice the harmony between the image and the music.
Okehazama-san, was the composing process itself more collaborative with the other staff, or was it primarily on you?
Okehazama: I did the actual composing myself, but the production of the music also involved the direction of Mr. Kobayashi, the musicians who played the instruments, and the talents of many other people.
Could you walk us through a day in the life of a music composer? How did you manage your time when working on this soundtrack?
Okehazama: I'm usually working on multiple projects concurrently, so in this case, I would usually work on The God of High School late in the evening or get up early to work on it in the morning.
Kobayashi: My morning always starts with checking my email. I also check song demos and such, but my mornings are mainly spent working on recording and adjustment of contracts. Afternoons are usually spent in meetings, where I talk to the producer about not just the soundtrack, but also the promotion of the series. When I get a new demo from Okehazama-san, I check it and send her my feedback. There have been occasions when I've sent a demo on to Director Park for further checks after a discussion with her, but more often than not, I send them to him without making any revisions. In addition to demos, I also manage the song list, so I make changes to it when appropriate. Updating this list probably takes up more time than anything else. For songs that are awaiting recording, I have to record which instruments and vocalists will be used along with supplementary explanations to ensure the resulting demo will feel complete, so I can't forget to update the list with such details. I also choose and edit the songs that will be used in multi-audio tracks, which happens about once a week. This normally takes about half a day, but for shows that have a lot of episodes, the work sometimes continues late into the night.
Okehazama-san, what is the process of composing music for anime from beginning the project to delivering the final music?
Okehazama: It starts with a meeting where I receive a roster of songs to be produced, then I start composing based on that. Then I submit demo tracks, get opinions, and apply revisions where needed. When all the songs are put together, then comes the recording and mixdown, and finally, I submit the completed product.
When you were creating the soundtrack, did you envision certain songs playing during specific scenes, or did you compose more for the anime as a whole?
Okehazama: Both. I made some songs specifically for certain scenes and made some others that would be versatile enough to use in various scenes.
Kobayashi: With this title, we've made a lot of songs specifically for certain scenes, and the music fits the progression of the scene. I explain to Okehazama-san what the scene is about and how the music should behave in it, and after some discussion, we make a presentation to director. He had some very detailed instructions and specific places where he wanted samul nori and other Korean folk instruments to be used, which made it fairly easy to figure out what sort of mood to set. Writing songs specifically for certain scenes does mean we end up with a lot of songs, so I was a bit worried about the strain that must have put on Okehazama-san.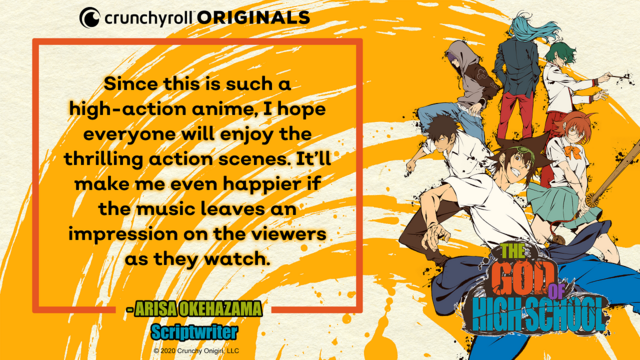 Any final messages for fans excited for The God of High School?
Okehazama: Since this is such a high-action anime, I hope everyone will enjoy the thrilling action scenes. It'll make me even happier if the music leaves an impression on the viewers as they watch.
Kobayashi: Director Park's animation and Okehazama-san's soundtrack have come together in an amazing fusion, so you can all look forward to it!
Have you been watching The God of High School? Let us know in the comments!
Do you love writing? Do you love anime? If you have an idea for a features story, pitch it to Crunchyroll Features!