"Cruising the Crunchy-Catalog" celebrates Kyoto Animation's 2017 TV anime based on the yuri fantasy rom-com manga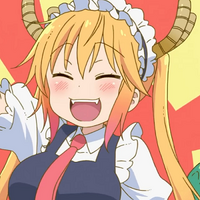 This article is part of Crunchyroll News' KyoAni Month celebration. Check out the rest of our KyoAni features HERE.
With so many streaming options to choose from, sometimes it's difficult to decide where to start when looking for an anime series to view, and so "Cruising the Crunchy-Catalog" is here for you. In each installment, we select a title from years past and offer more information to help anime fans curate their queues and to point their attention to shows they may have missed the first time around.

This month, Crunchyroll is celebrating the work of Kyoto Animation, and so we're serving up a dragon-sized helping of family comedy, high fantasy, and queer romance with a look back at Miss Kobayashi's Dragon Maid.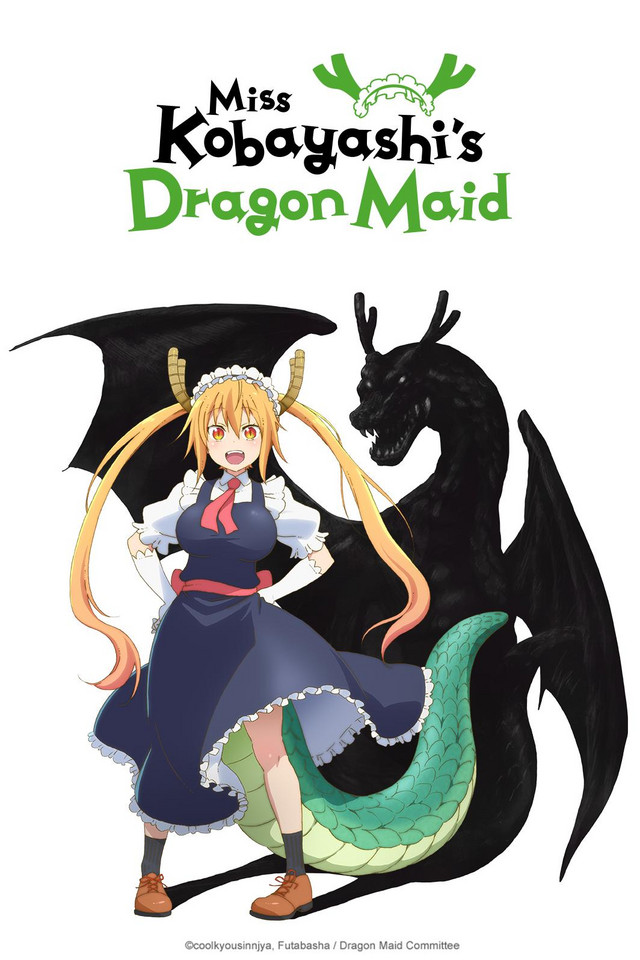 What's Miss Kobayashi's Dragon Maid?
Based on the manga by coolkyousinnjya, Miss Kobayashi's Dragon Maid is a Winter 2017 TV anime with direction by Yasuhiro Takemoto and animation production by Kyoto Animation. Crunchyroll describes the series as follows:
Miss Kobayashi is your average office worker who lives a boring life, alone in her small apartment–until she saves the life of a female dragon in distress. The dragon, named Tohru, has the ability to magically transform into an adorable human girl (albeit with horns and a long tail!), who will do anything to pay off her debt of gratitude, whether Miss Kobayashi likes it or not. With a very persistent and amorous dragon as a roommate, nothing comes easy, and Miss Kobayashi's normal life is about to go off the deep end!
Miss Kobayashi's Dragon Maid is a "fish out of water" comedy and a tender yuri romance where fantasy and reality collide in all manner of mundane ways and where family life sometimes involves an epic dragon battle or two.
Everyday Fantasy.
Miss Kobayashi's Dragon Maid is a romantic comedy with fantasy elements of the "magical girlfriend" variety, and much of the humor of the series revolves around Kobayashi adjusting to her newly expanded family life with a pair of dragons as her spouse and her adopted daughter, respectively.
Tohru and Kanna are strangers in a strange land, and neither of them are accustomed to the human civilization of a world without magic and monsters. Born into battle and raised as a servant of Chaos and an enemy of the gods, Tohru, in particular, tends to react to even the most ordinary and everyday situations with a disproportionate level of force, so many of the jokes involve her attempting to curb her more violent impulses or misunderstanding human cultural norms.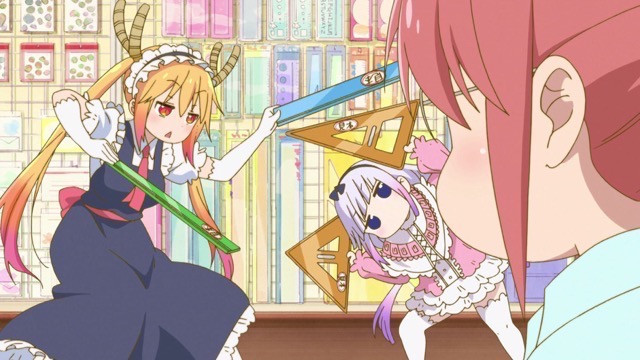 Introverts and Introspection.
Despite its outlandish draconic premise, the emotional core of Miss Kobayashi's Dragon Maid centers around the very human desire for people to feel like they are loved and appreciated and to feel like they have a safe place where they belong. This sentiment applies not only to the dragons that take up residence in the human world, but also to the human characters as well.
Kobayashi and Fafnir, for example, are both introverted by nature and they each have varying degrees of trouble navigating in the social spheres of friendship, family, and romantic relationships. The show portrays how they resolve these tensions in a surprisingly gentle fashion, with a heavy emphasis on the transience of life and the need to treasure relationships while they last.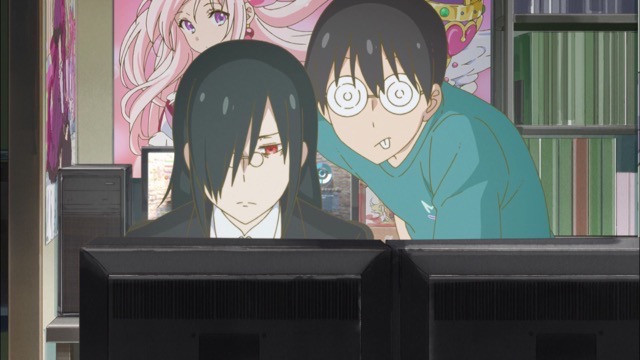 Messy Romance.
Fantasy elements notwithstanding, Miss Kobayashi's Dragon Maid isn't a fairy tale romance where the couple lives happily ever after. Kobayashi is inexperienced and uncertain of her self-worth, and she doesn't really know how to react when treated with affection. Tohru suffers from pangs of jealousy, a violent temper, and an iffy understanding of the concept of consent, as demonstrated by the episode with the Valentine's Day love potion and her constant attempts at tricking Kobayashi into eating her tail.
Tohru and Kobayashi's efforts to build a new life together are at the heart of the dramatic conflicts in Miss Kobayashi's Dragon Maid, and despite the fantastical elements of dragons and magic and so on, the show is quite realistic in demonstrating that even people who love and support each other don't always get along.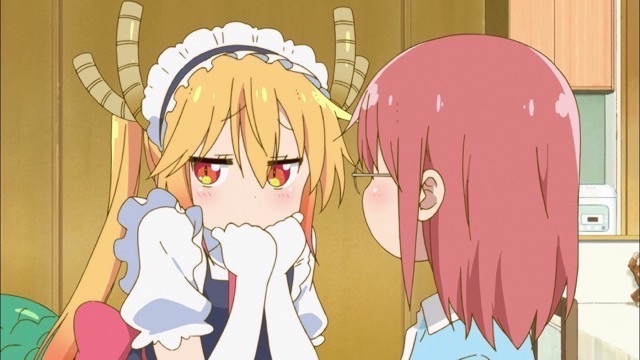 Guarding the Hoard.
Crunchyroll currently streams Miss Kobayashi's Dragon Maid in 207 territories worldwide, and the series is available in the original Japanese with subtitles in English, Spanish, Latin American Spanish, French, Italian, Portuguese, German, Arabic, and Russian. Episodes are also available in some territories with dubs in Spanish, Portuguese, German, Russian, and French. The series is released on home video in the United States by Funimation.
The series contains lots of fanservice, as well as some questionable jokes involving Kanna and Shouta. So Miss Kobayashi's Dragon Maid isn't likely to appeal to everyone, but if you're in the mood for a light and fluffy show with high production values and lots of charm — and if the series is available in your area — then please consider giving Miss Kobayashi's Dragon Maid a try.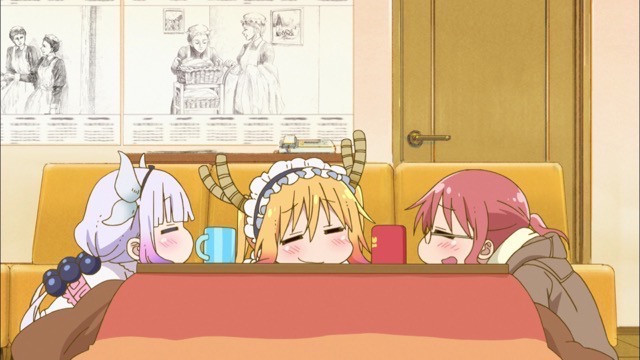 Thanks for joining us for the most recent installment of "Cruising the Crunchy-Catalog." Be sure to tune in next time, when Crunchyroll's celebration of Kyoto Animation continues as we go hunting for phantoms with an anime adaptation based on a series of light novels aimed at young adults.
Is there a series in Crunchyroll's catalog that you think needs some more love and attention? Please send in your suggestions via e-mail to [email protected] or post a Tweet to @gooberzilla. Your pick could inspire the next installment of "Cruising the Crunchy-Catalog!"
---
Paul Chapman is the host of The Greatest Movie EVER! Podcast and GME! Anime Fun Time.

Do you love writing? Do you love anime? If you have an idea for a features story, pitch it to Crunchyroll Features!