Check out these special High Guardian Spice-inspired dishes!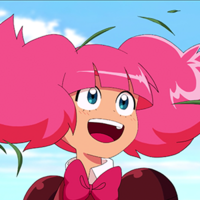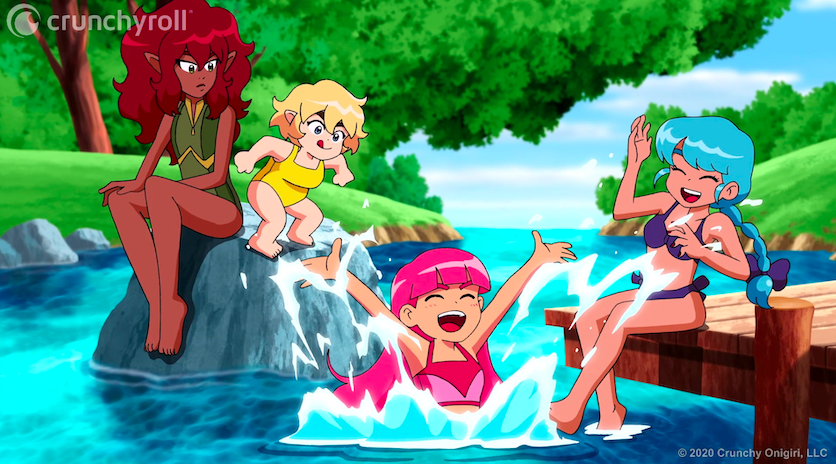 Calling all Guardians! With the release of the Crunchyroll Originals series High Guardian Spice, we're here with some recipes for you to use your own spices and make some truly fantastic dishes! Check out these four High Guardian Spice-inspired recipies from sweet to savory treats! Let us know in the comments below if you tried making any of these and how they turned out!
Parsley Pesto Pasta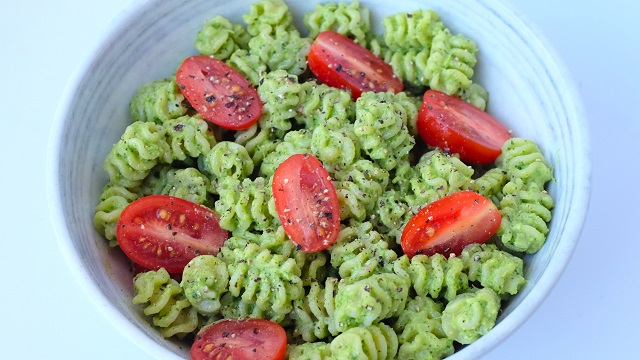 Serving: 4 to 6 | Time: 15 minutes
Ingredients
1 lb dried pasta
1/2 cup shelled walnuts
1 bunch of Italian parsley, roughly chopped
7 garlic cloves, roughly chopped
1/2 cup shredded parmesan
1/4 cup olive oil
1 teaspoon black pepper
1/2 tablespoon kosher salt
1 1/4 cup cherry tomatoes, sliced in half
Directions:
Step 1
Bring a large pot of salted water to a boil over high heat. Once boiling, cook pasta to package instructions. Reserve 1/2 cup of pasta water for sauce later. Drain the rest and set aside.
Step 2
While pasta is cooking, make the sauce. Toast the walnuts in a small pan over medium-high heat while stirring frequently to avoid scorching. Cook until fragrant, about 4 minutes. Remove from heat and place walnuts into a blender or food processor.
Step 3
To the blender, add pasley, garlic, parmesan, olive oil, pasta water, black pepper and salt. Blend until fully incorporated and no large chunks remain.
Step 4
Toss cooked pasta with parsley pesto and half the cherry tomatoes until combined. Serve with some additional cherry tomatoes scattered on top and a few cracks of fresh black pepper.
--

Whipped Ricotta Toast with Strawberries and Thyme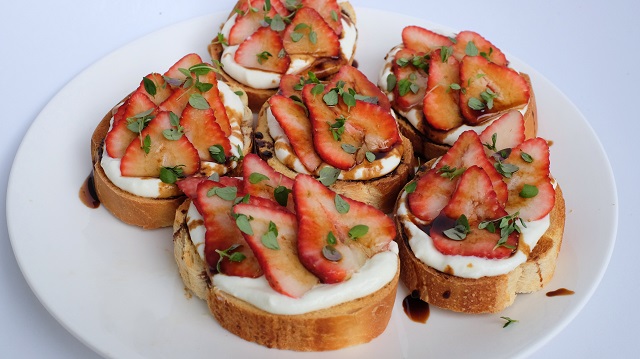 Makes: 6 toasts | Time: 5 minutes

Ingredients
6 1/2"-slices of loaf bread, toasted
1 cup ricotta cheese
1/4 teaspoon kosher salt
1 1/4 cup strawberries, thinly sliced
Balsamic glaze, for drizzling
1/4 cup fresh thyme

Directions:
Step 1
In a blender or food processor, combine ricotta and salt. Blend until fully smooth and almost a whipped cream-like texture, about 1 minute. Set aside.
Step 2
Assemble the toasts. Evenly distribute whipped ricotta between the bread using a spoon and spread to each edge. Neatly arrange strawberries in layers over the ricotta. Lightly drizzle balsamic glaze across toasts. Sprinkle fresh thyme on top. Serve immediately.
--

Sage Stuffed Mushrooms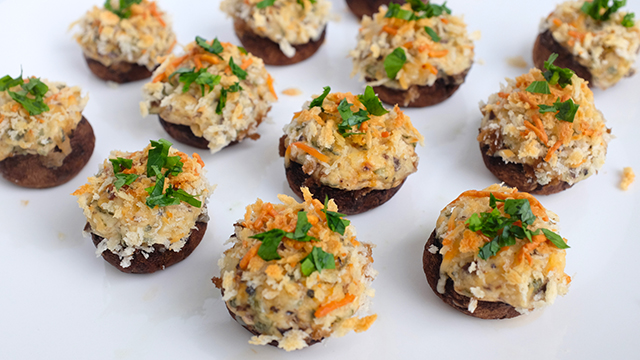 Makes: 16 mushrooms | Time: 25 minutes
Ingredients
16 baby portabella mushrooms, rinsed
1 tablespoon unsalted butter
4 garlic cloves, minced
4 oz cream cheese, softened
1/4 cup sage, finely chopped
1/4 cup + 1 1/2 tablespoons shredded parmesan
1/4 teaspoon smoked paprika (optional)
1 1/4 teaspoons kosher salt
3/4 teaspoon black pepper
1/4 cup panko
1 tablespoon chopped parsley, for garnish
Directions
Step 1
Preheat oven to 350°F. Grease a baking sheet with cooking spray. Remove mushroom stems, finely chop and set aside. Place mushroom caps top-side down on the baking sheet.
Step 2
In a small pan over medium-high heat, melt butter. Then add mushroom stems and garlic. Cook until most of the moisture is gone and the mixture is fragrant, about 4 minutes. Remove from heat and set aside.
Step 3
In a medium bowl, combine mushroom mixture, cream cheese, sage, 1/4 cup parmesan, paprika, salt and pepper. Using a teaspoon, evenly fill the mushroom caps with the filling. It's ok to add extra filling in them, just build from the top to resemble small mountains.
Step 4
In a small bowl, combine panko and the remaining parmesan. Take each filled mushroom and gently dunk the top into the breadcrumb mixture until fully coated before placing back onto the baking sheet. If any breadcrumbs remain, sprinkle extra on top of mushrooms.
Step 5
Bake for 15 minutes or until each mushroom is fork-tender. Then broil on high until the breadcrumbs are golden brown, about 3 to 4 minutes. Remove from the oven and let cool for 5 minutes on the baking sheet. Garnish with parsley and serve immediately.
--
Rosemary and Lavender Lemon Bars

Serving: 6 to 8 | Time: 35 minutes
Ingredients
For the crust:
1/2 cup unsalted butter (1 stick)
1/2 cup white sugar
1/2 tablespoon vanilla extract
2 cups all-purpose flour
3 tablespoons rosemary, chopped
1 1/2 teaspoons dry culinary lavender
For the filling:
3/4 cup lemon juice (about 5 lemons)
2 tablespoons lemon zest
3/4 cup all-purpose flour
3 eggs plus 3 yolks
1 1/2 cups white sugar
Powdered sugar, for dusting
Directions
Step 1
Preheat oven to 350°F. Grease a 13-by-9-inch pan with cooking spray and set aside.
Step 2
Make the crust. In a large bowl, cream together butter, sugar and vanilla using an electric hand mixer until light and fluffy, about 2 minutes. Add remaining crust ingredients and mix on low until just combined and resembles sand. Evenly distribute the mixture in the pan and press down firmly to form a 1/2"-thick crust. Bake until lightly golden brown along the edges, about 15-20 minutes.
Step 3
While the crust bakes, make the filling. In a medium bowl, combine lemon juice, zest, flour, eggs and white sugar until incorporated.
Step 4
When the crust is baked, add the filling into the pan. Return to oven and bake until the center is just set and still slightly wobbles, about 22-25 minutes. Remove from oven and let cool to room temperature. Dust with powdered sugar before serving. Enjoy at room temperature or chilled.