WAH it's time for Ina to take the stage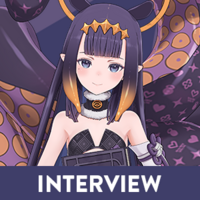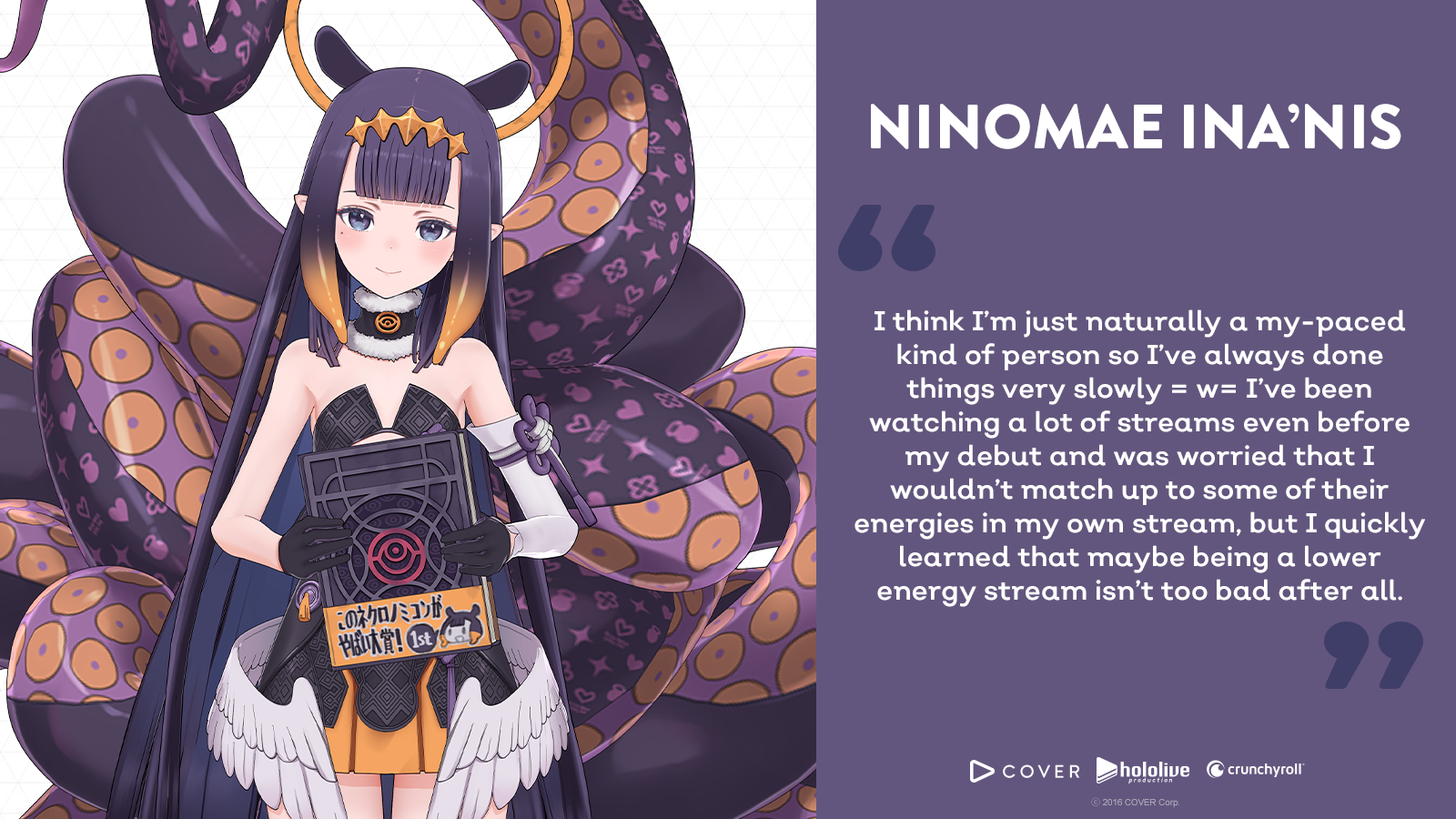 This interview is part of our series of articles and interviews with hololive VTubers IRyS and the members of -Myth-! This series includes interviews and recommendation lists from some of the world's most well known VTubers. You can read Ina's Top 10 Anime list here, and you can see all of the upcoming articles below!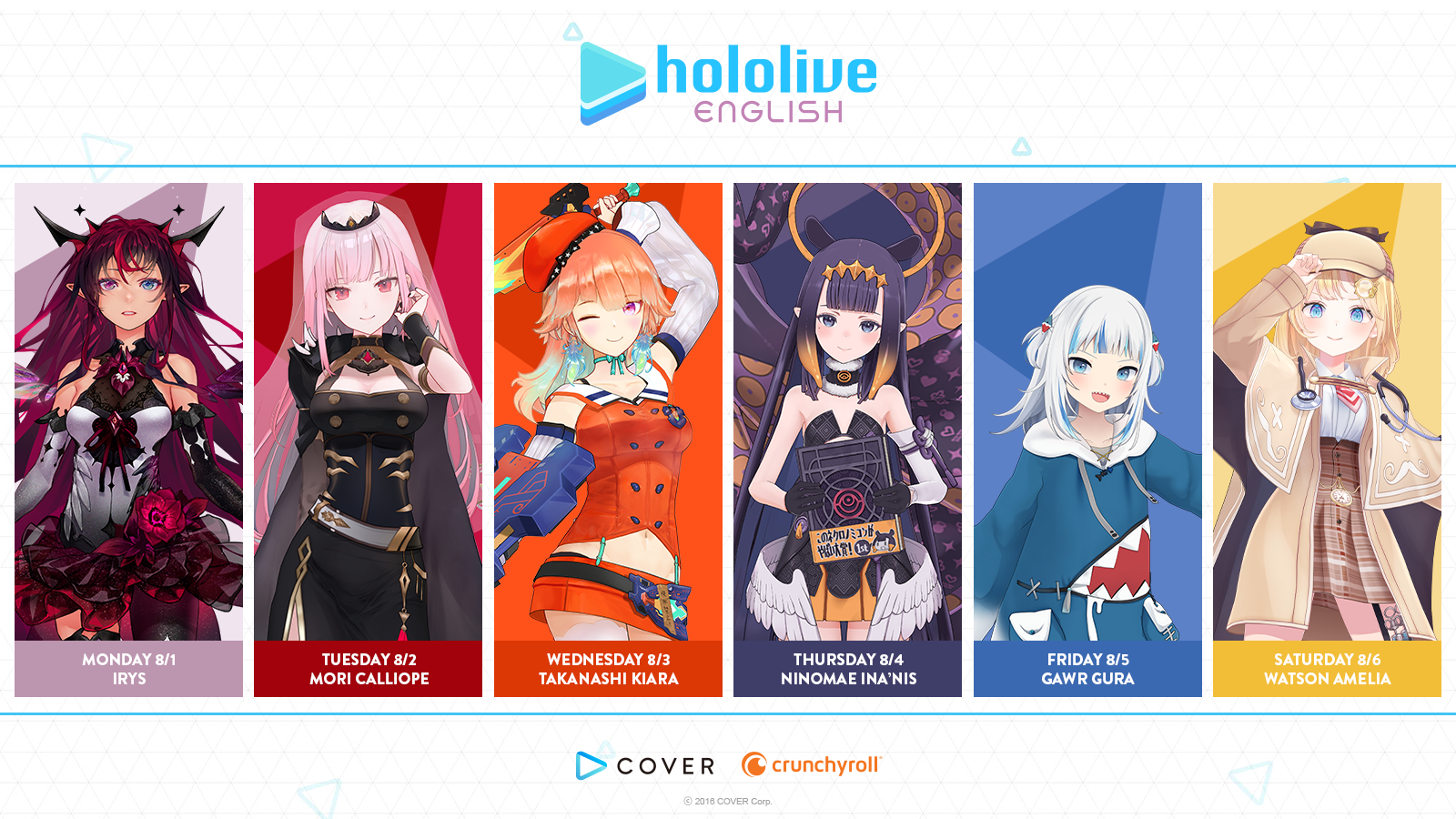 Wrap yourself up in a blanket because it's time to get comfy as we had the pleasure of talking to hololive English -Myth-'s Ninomae Ina'nis! Between her gameplay streams, karaoke, collabs, and art streams, Ina is able to provide a lot of variety when it comes to the entertainment she gives her fans. We were able to talk with her about TOMORROW?!, the past few years being a part of hololive English -Myth-, and who she's really hoping to collab with someday.
---
Crunchyroll: Can you introduce yourself to our readers?
Ninomae Ina'nis: Hi! I'm Ninomae Ina'nis of hololive English -Myth-!
The "TOMORROW?!" clip has been passed around a lot both in the context of hololive production fans and those who have no idea what a Vtuber is. What does it feel like to have that clip become a meme and to see it used all over the internet?'
Ina: On one hand, I'm happy that people find it funny and on the other hand I lie awake sometimes thinking about just how many people in the world heard my voice crack haha
"TOMORROW?!"
You're known for having incredible chill, comfy, and relaxing vibes for all of your streams — that was one of the reasons why you specifically were my gateway into the English side of hololive production. Was that something you thought you'd bring to Vtubers, or is it just you being naturally a comfy person?
Ina: I think I'm just naturally a my-paced kind of person so I've always done things very slowly = w= I've been watching a lot of streams even before my debut and was worried that I wouldn't match up to some of their energies in my own stream, but I quickly learned that maybe being a lower energy stream isn't too bad after all.
I personally always thought I was a boring person and didn't really have a defining feature growing up, but maybe that is something that can stand out when I'm by a lot of bright and energetic personalities haha.
hololive English -Myth- has been going strong for nearly two years now, which doesn't seem like that long, but overall, how do you feel about the group's growth over this period of time and the future for the five of you?
Ina: I've said this earlier as well, but I really can't imagine hololive English -Myth- with any other people than the girls right now! We've gone through so much together and I think everyone worked really hard to make things happen even when we had a lot of difficulties. I hope we can continue to try new and fun things together soon!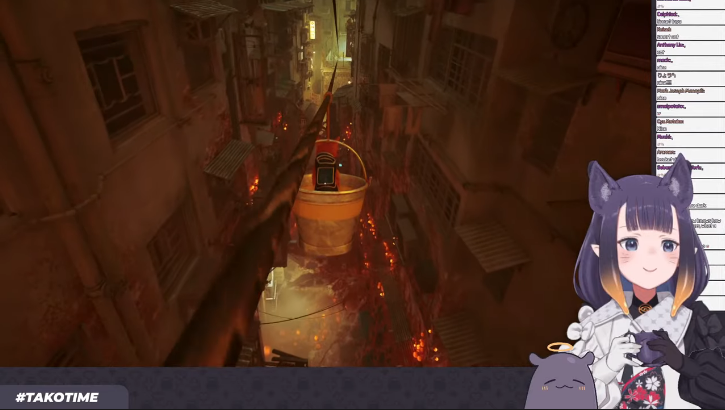 Ina playing through the game Stray.
As a noted pun master, what is the key to becoming one with puns?
Ina: I think if you try too hard to make a pun consciously it ends up becoming too forced, so it's better to just let it come to you naturally. The best part about landing a pun is not the laughter that comes out of it but the sighs and disappointed looks of your friends who disapprove of your love of puns :D
One special thing you share with fans is your drawing streams. As an artist, what is it like to be able to share your art with so many people and also give them a behind-the-scenes look at your creative process?
Ina: I think I'm still learning a lot every day while drawing so it's fun to know there's more people joining me on the journey! I'm not really a teacher but just another fellow student who wants to learn, so I hope maybe seeing my process has helped some as well!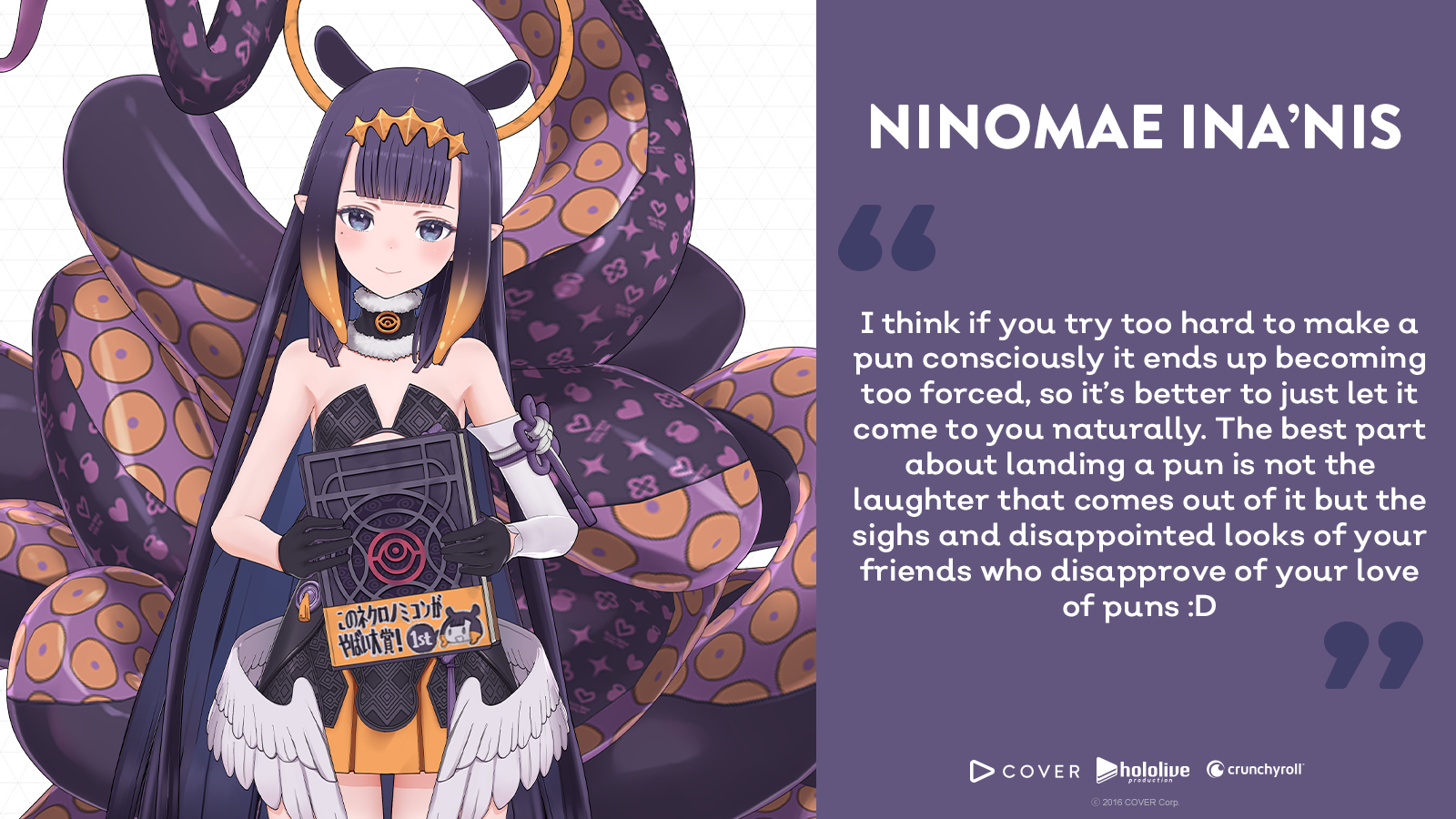 Over the course of your time at hololive production, you've managed to interact and collaborate with so many members from all of the branches. Are there still any dream collabs that you're hoping to do in the future… and any hint about who that could be?
Ina: Honestly speaking, it still feels unreal when I get to talk to some of my senpais before collabs or during events! I've watched them for so long so I always have to snap back from fan mode to actually get things done haha I still want to collab with a lot of them, but I hope that I can brush up on my Japanese more to be able to collab with Marine-senpai someday!! I respect her a lot and would love to get to know her better!

Vtubers and hololive production has been a great help to people over the past couple of years with all of the world events and the pandemic occurring. As someone who debuted during this time frame and has provided entertainment to countless people, how does it make you feel that VTubers have been able to bring some sort of relief to people during tough times?
Ina: I think I was the case of being so deep in the rabbit hole that I started digging the hole myself as one of the members of hololive production haha
I found a lot of comfort and happiness while watching hololive production talents as a fan before my debut, so I am really happy when I hear that my own streams also made others happy. Honestly, we couldn't be here without our fans' support so I am always, always thankful for all the support they've given us!!
I always want to let people know that if any of our streams could put a smile on someone's face or give them the extra push to get through their day, we've done our jobs and that also gives us motivation to work harder as well!
Ina and Tsukumo Sana's cover of "フタリボシ".
Last year saw the debut of IRyS and hololive English -Council- as additions to hololive English. What has it been like to have them included into the fold and getting to know all of these new members from last year into this year?
Ina: It's been really fun having more members to interact with! Of course, we have a lot of senpais to communicate with but the language barrier and time zones sometimes make it very difficult to talk to them normally… having a lot more hololive English members always made it easier to collab spontaneously or bounce ideas off easier! I can't wait to work on some fun projects with them in the future!!

If I were to give you my resume, how likely would it be for me to become a member of the Ancient Ones?
Ina: I would have to redirect you to the HR department of the tentacult on the 7th floor. I think they're closed on Wednesdays (it's cookie day) so please watch out for that.

You were able to release your first original song, "VIOLET" last year, which encompasses not only your stream vibes into music, but also feels like you could hear it as an anime ending. What was your creative process when it came to making this song and how do you feel this experience will help you when you get the chance to make another original song?
Ina: I think recording "VIOLET" was actually one of my first times where I learned how to record my vocals properly thanks to the composer Seibin-san! When it came to the overall theme of the song, we had a meeting together with Seibin-san and LUMINA-san (who was in charge of the lyrics) and gave them a rundown of the sort of feeling and story behind the song I wanted to include in the song. When it comes to working on musical projects or just solo creative projects in general, I like to give a lot of freedom to the creators and let them go wild! If there are any feedback or adjustments to be made, I like to shape it in a way that works for everyone. I think that sort of stems from my personal experiences where I had the easiest and best results when I had the most creative freedom for some projects!
In March, you made your 3D debut as a part of hololive 3rd fes., along with all of hololive English -Myth-. What were your feelings being a part of such a momentous event and getting to sing in front of a live in-person audience for the first time?
Ina: I think it was a pretty emotional time for everyone! Everyone worked so hard to put it together and seeing it all come together felt magical… I hope we can do more events like these in the future!!
We had talks of the 3D debuts for such a long time yet it is impossible to have the traditional 3D debuts like our senpais before the concert… I still want to apologize that our first appearance had to be behind a paywall… I still hope to be able to do a proper 3D debut stream to show what we had been planning!!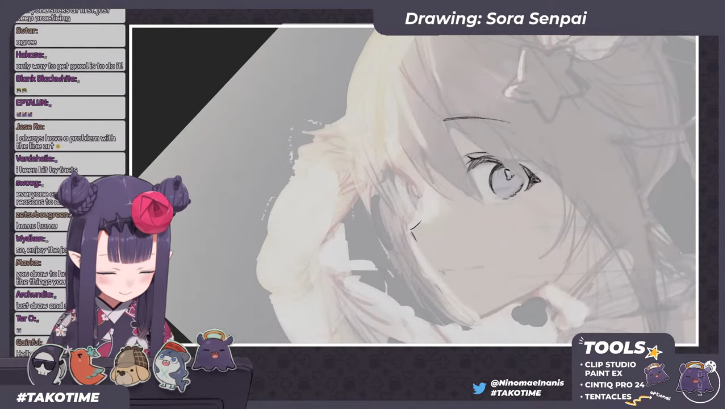 Ina drawing hololive's Tokino Sora.
Your recent birthday merchandise for 2022 that you were able to design featured some very unique pieces. How did you come up with not only the designs for this merch, but also the laundry theme with the bag and tako pouch?
Ina: The very first design/idea I had for the merch was a cute Takodachi umbrella, but there were troubles figuring out proper production procedures for them…Then Staff-san also gave us a few ideas and my inspiration struck when I saw the laundry pouch! I thought that it would be a really interesting and fun merch idea that no one has made before! I'm glad takodachis are great at transforming into so many different things! They're so talented!! Haha

Is there anything you'd like to say to Past Ina in case she tries to find a way to give different answers for this interview?
Ina: Please don't give Past Ina the interview questions again or else she's going to write a whole essay per question…|- ' )
Finally, would you like to say anything to your fans and those that have been supporting you since 2020?
Ina: Without your support, I really wouldn't be able to do what I love to do!! Thank you from the bottom of my heart for all the support and love you've given me and I'll continue to do my best to go to infinity and beyond!!!!!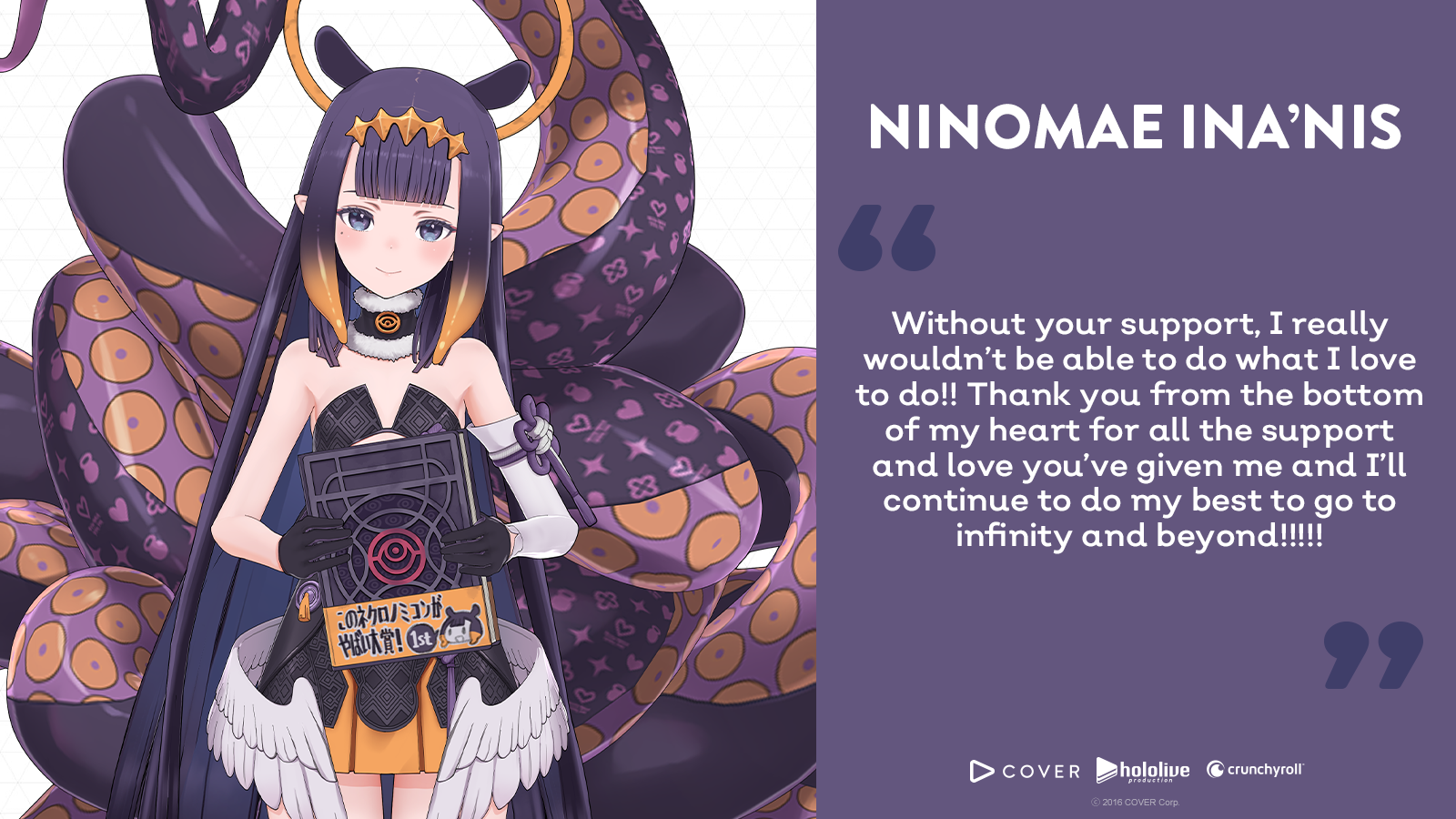 ---
Other articles in this series:










---
You can watch Ina on her YouTube channel

here

!
ⓒ 2016 COVER Corp.
---

---
Jared Clemons is a writer and podcaster for Seasonal Anime Checkup and author of One Shining Moment: A Critical Analysis of Love Live! Sunshine!!. He can be found on Twitter @ragbag.