Disgaea 3 Returns with… Disgaea 3 Return(s)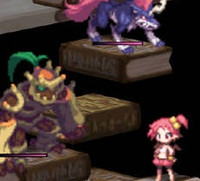 Maybe you missed out on Disgaea 3: Absence of Justice, an entry in Nippon Ichi's celebrated Strategy-RPG series exclusive to PlayStation 3. Well, another chance to play is on its way now that a remake has been confirmed for PlayStation Vita.
The upcoming release—either titled Disgaea Return or Returns—was confirmed in this week's Dengeki PlayStation. Some improvements over the PS3 original include the use of close-up character pics a la Disgaea 4, four new scenarios, and two new characters. All of the PS3 version's DLC will be included, as well.
More details on the Disgaea 3 Vita remake should be surfacing shortly, but right now a firm street date—as well as word on a North American release—is still up in the air.
Via Andriasang