Premieres include "Love My Life," "Cousin," 10 Harlequin Romance titles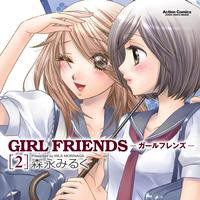 February 14th has proven to be a huge Valentine's Day for JManga, with the digital manga service premiering Ryo Ikuemi's josei work Cousin, Ebine Yamaji's yuri Love My Life, and 10 Harlequin Romance titles, as well as adding new volumes of Girlfriends, Perfect Girlfriend, and Moritasan Wa Mukuchi.
Created by Milk Morinaga
STORY
Mari Kumakura is a plain and studious girl whose only redeeming feature is her grades. She is shy, preferring the company of books to people - until the day that Akko Oohashi, the glamourous class idol, decides to befriend her. At first, Mari is very suspicious of her true intentions, but as the two spend more time together, they become fast friends, with Akko transforming Mari into one of the cutest girls in the school and helping her break out of her shell. But...why is she feeling so jealous of the thought of Akko gaining a boyfriend? Why does she blush a lot in Akko's presence, with her best friend's touch making her heart race? Could...could she be falling in love with her best friend?!
Created by Wataru Akiduki
STORY
Good at academics, sports, and just about everything else, Suwa Hinako is a perfect and beautiful second year middle school student. Among all her male and female classmates who admire her, there is one boy who treats her normally. With a single word from him her identity begins changing dramatically! This winner of Comic High's Kamikaze Award depicts the imperfect love comedy of the perfect girl! The long awaited first volume of this award winning author is finally here!
Created by Ebine Yamaji
STORY
My name is Ichiko and Ellie is my lover. We're both women. The series of endless, pure, and true love between two women that created a huge sensation is now available as a book! Here is the relationship perspective of Ichiko and Ellie.
Created by Ryo Ikuemi
STORY
An 18-year-old girl who works part-time and never had a boyfriend... Things can't stay this way, right? Receiving a 100% positive response rate in fashion magazine, Zipper, this is a story for those who have ever thought to themselves, "Am I happy as I am right now?" This is a story for those who want to "change."
Created by Tae Sano
Story
Meet Morita Mayu, a typical high school girl who's a bit quieter than most of her peers. Not because she's got nothing to say, but because chronic bad timing and her tendency to over-think things often leave her with no chance to join the conversation.
About This Volume
Little Saki is visiting Mayu's next-door neighbor, and Mayu's got her hands full trying to keep up with her. And don't miss a blast from the past when we get a peek at what life was like for Mayu all the way back in elementary school!
Created by Amanda Browning/Kazuko Fujita
STORY
"I won't let him get away with this, that horrible man!" After reading an article that slanders her best friend Sarah, Carrie bursts into an independent newspaper publishing corporation to complain. There she finds a man with gray eyes so handsome, he takes Carrie's breath away. The man seems indifferent to Carrie's anger and, rather than attend to her complaint, teases her. Despite their constant arguing, a special relationship forms between them, but Carrie's painful past means she is too afraid to love again. But they both can't pretend not to notice their passionate love for each other burning within...
Created by Marie Ferrarella/Kazuko Fujita
STORY
"Do you know who I am?" Rebecca, a girl with no memory and a missing shoe, arrives at Angus's private detective agency. She found his business card in her coat pocket, but Angus does not know who she is. Angus invites the shivering and frightened girl into his warm home where he lives with his young daughter. Soon they become powerfully attracted to each other, but on the morning after they first make love, a man claiming to be Rebecca's fiancé appears...!
Created by Sophie Weston/Kaori Himeki
STORY
Natasha lives to work. Her bitter experiences in the past mean she is disinterested in relationships or marriage, but she agrees to be a bridesmaid at her best friend's wedding. At the engagement party, Natasha meets a man who rudely treats her with suspicion, infuriating her. This arrogant man is Kajim, an Arab sheikh, and best man to the groom. But as their paths continue to cross, and danger lurks in the Arabian desert, Natasha finds her true prince.
Created by Leigh Michaels/Ritsuka Amane
STORY
Millionairess Kathryn is preparing for what is being called the wedding of the century. It is not a marriage of love, but her father believes they are a good match. Everything is turned upside down, however, when she finds out her husband-to-be is only after her fortune! Her father is still none the wiser. Throwing off her wedding dress, Kathryn decides to run away from her wedding, with the help of Jonah, a man she meets in the garden. She offers Jonah a deal-"Marry me"—and their strange but thrilling elopement begins!
Created by Renee Roszel/Kako Ito
STORY
Hannah threw her letter of resignation at her boss, who called her "below average." Still full of hurt, she visits the Blue Moon Inn, where the inn owner suggests she take a walk in the garden. That night was the night of the blue moon—the second full moon of the month. Under the magical moonlight reflected on the derelict stone-walled church, a rude yet sexy man suddenly appears. To Hannah's astonishment, it is her offensive former boss, Roth Jerric! Why would fate punish her like this?
Created by LUCY GORDON/MAYU TAKAYAMA
STORY
When she was 16, photographer Lee went to Gretna Green, the "Elopement Capital of Scotland," where she could get married without her parents' consent. However, she soon divorces, taking her daughter with her. She has had enough of men, but 13 years later, she meets Daniel, who tries everything in his power to seduce her. Meanwhile, Lee's brother is in a passionate relationship with Daniel's daughter. The two lovers decide to elope to Gretna Green just as Lee did all those years ago. Lee chases after them with a bitter feeling in her heart...
The Celebrity Doctor's Proposal
Created by SARAH MORGAN/MASAMI HOSHINO
STORY
Anna is a doctor at a clinic in a small village. During one busy summer season, Sam, Anna's childhood acquaintance and rival, comes to help out at the clinic. He is now a TV-celebrity doctor, and although Anna is glad of the extra help, he can't film the clinic for his show! They can argue about absolutely anything, but she cannot let Sam know that her heart flickers with feelings of desire whenever he shows her his masculine side...
Million Dollar Men I-Expecting the Boss's Baby
Created by LEANNE BANKS/KANAKO UESUGI
Story
"I love you, not as my boss but as a man." It had been 2 months since Kate spent a night of passion with her boss, Michael, whom she secretly loves. But the next day, Michael cruelly tells her that their relationship must strictly be kept to business. Kate cannot forget about that night, and tells Michael how she feels... In fact, Michael grew up in an orphanage. He had a difficult childhood and now finds it impossible to love. Can Kate's love change Michael?
Million Dollar Men Ⅱ-Millionaire Husband
Created by LEANNE BANKS/KANAKO UESUGI
STORY
Justin, a genius of the stock trading business is a real scrooge despite being a millionaire. He believes marriage only drains your bank account, and only contributes to charity to evade taxes. While investigating a charity, he meets a poor but charming girl named Amy. However their encounter is cut short when he suddenly coughs up blood and collapses. Amy rushes him to the hospital and while drifting between the borders of life and death, he had a dream: his friends standing at his bed side, sadly mumbling "he only thought of money, money, money", "he never learnt to love anyone". Justin is suddenly swamped with a feeling of deep regret. He prays to God, "please, just give me another chance!"
Million Dollar Men Ⅲ-The Millionaire's Secret Wish
Created by LEANNE BANKS/KANAKO UESUGI
STORY
Alisa has always been with Dylan for as long as she can remember—she gave him her first kiss as a teenager and, later, her virginity. But when Alisa finds Dylan bedding another woman, his cruel betrayal devastates her and she brings a sad end to their long-term relationship. At her worst, an accident befalls her. When Alisa wakes up, she has lost every bit of memory related to Dylan! This is the final story of a high-profile miniseries, Million-Dollar Men, which depicts the romances of self-made millionaires.
February 14th has proven to be huge Valentine's Day for JManga, with the digital manga service premiering Ryo Ikuemi's Cousin, Ebine Yamaji's yuri Love My Life, and 10 Harlequin Romance titles, as well as adding new volumes of Girlfriends, Perfect Girlfriend, and Moritasan Wa Mukuchi.