"The Elder Scrolls V" dance mod even better in Japanese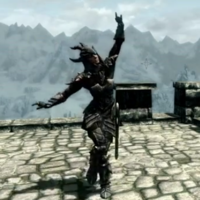 If you haven't feasted your eyes on the Elder Scrolls V: Skyrim mod masterpiece that is Skyrim Dance, there is no better time to do so than when certain mash-up artists are importing Miku Miku Dance routines (among others), i.e. right now!
I'm not sure what exactly this inspires me to do, but I'm always impressed by the creativity and joy that PC mods bring.
via Hachima Kikou