Author Izuru Yumizuru and publisher Media Factory refusing to comment officially, evidence points to publisher dropping title completely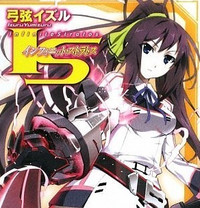 Recently, evidence has been mounting that Inifinite Stratos author Izuru Yumizuru and Media Factory have had a massive falling out, with the publisher suddenly discontinuing the highly popular light novel from retailer order lists and cancelling the release of the latest volume, which was to be the 8th volume and previously scheduled for an April release.
Retailers looking to reorder more copies of the series are currently being told that it is no longer available for ordering and that the series has been discontinued from circulation, while retailer order forms have also confirmed the active removal of the title.
Media Factory has also begun to remove references to IS from its webpages, actively scrubbing any references to the title anywhere on its domain, though the master title list still displays references to the title for the time being. Retailers are also alerting customers that any remaining stock of light novels would be the final copies available, which has led to runs on stores in Akihabara as well as online stores.
To add to the situation, Yumizuru previously confirmed in a tweet that the 8th volume would be released soon, then backtracked and tacitly admitted that it would no longer be published by Media Factory via its MF J Bunko imprint, which marks the first semi-official response from him regarding the situation. While it's not currently confirmed what initially caused the falling out, speculation is centering on Yumizuru attacking fans on Twitter to the point that Media Factory decided that dropping him was the best course of action.
At this point the only semi-official confirmation from Media Factory that the title has indeed been cancelled is the removal of the title from the Media Factory J 10th anniversary festivities, when it was previously slated to be featured to coincide with the release of the now cancelled 8th volume. Currently, the novel lies in a state of limbo and neither side is willing to speak out officially on the situation, making things more confusing for fans.
Anyone surprised by Media Factory's actions and the respective silence on both sides? I'd like to see the next volume get released since I was reading it, but who knows when that will happen now.
Gregory Lanson contributed to this report.
---
Humberto Saabedra is the Editor-in-Chief of AnimeNews.biz, PhoneNews.com and an occasional columnist for Ani.me. He can also be found musing on his favorite 2D girls at @AnimeNewsdotbiz.