Guest artists include Aoi Teshima, Masayoshi Furukawa, and Yuuka Nanri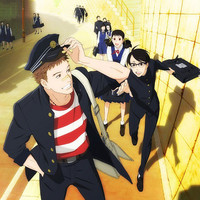 Fans of Cowboy Bebop director Shinichirō Watanabe and composer Yoko Kanno's new collaboration, Sakamichi no Apollon, will not have to wait long for its soundtrack. The anime adaptation of Yūki Kodama's josei manga hits Japanese TV in April, and the soundtrack is already scheduled for an April 25th release.
Listed guest artists include Aoi Teshima, a singer featured in Goro Miyazaki's Tales from Earthsea and From Up on Poppy Hill; Masayoshi Furukawa, an acoustic guitarist from the Seatbelts, also featured on Jin-Roh and Noir; and Yuuka Nanri, a frequent vocalist for Yuki Kajiura soundtracks, also featured on Gundam SEED insert songs, and voice of Sakamichi no Apollon's Ritsuko Mukae.
Price: ¥3,059 (approx. $37.7 USD)
Insert songs:
Moanin'
Birdland
Someday My Prince Will Come
My Favorite Things
But Not For Me
Four
Milestone
Producer: Yoko Kanno
Piano: Takashi Matsunaga
Drums: Jun Ishikawa
And others