"Hunter x Hunter" figures also scheduled for June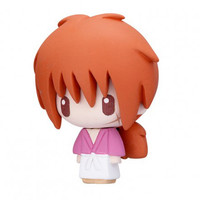 Along with new editions of the manga, the two-part Shin Kyoto-Hen OVA, and the upcoming live-action movie, the revival of Rurouni Kenshin is yielding its share of figures. MegaHouse has revealed its adorable Chara Fortune Series - Rurouni Kenshin set, scheduled for June release.
The figures of Kenshin Himura, Sanosuke Sagara, Yumi Komagata, Makoto Shishio, Battousai, Seijyuro Hiko, Kaoru Kamiya, Misao Makimachi, Aoshi Shinomori, Hajime Saitou, Hoji Sadojima, and Soujiro Seta will be selling in trading figure blind boxes for 399 yen ($4.77) each.
Earlier this year, MegaHouse and Bandai's premiere, female audience GEM line released a new figure of Kenshin's Saito Hajime.

A GEM Shishio Makoto is due in May.
And, speaking of MagaHouse's Jump based figures, a Chara Fortune Series wave based on Hunter x Hunter follows the Kenshin ones in June.
via Gashapon Rakuen