Manga scheduled for North American release in June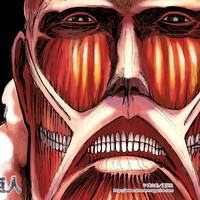 Hajime Isayama's Attack on Titan, scheduled to be released in North America by Kodansha in June, is an intricately detailed and disturbing manga concerning how a human society reacts to the sudden onslaught of cannibalistic giants. In May, for ¥5,775 ($71), you'll be able to pick up a mask that'll give you the frightening look of one of the manga's skinless faced monstrosities.
The mask will be available at anime goods retailers such as Movic and Animate, sized one-size-fits-all for adult males.