Third trailer offers an early look at this summer's conclusion to Christopher Nolan's Batman trilogy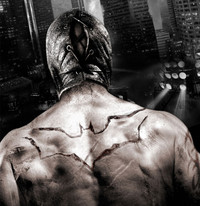 Hiding in the shadows of this weekend's Avengers opening, the Caped Crusader has his own trailer ready to debut. Christopher Nolan's Batman trilogy ends this July with The Dark Knight Rises. Check the latest preview below.
Oscar winner Christian Bale (The Fighter) again plays the dual role of Bruce Wayne/Batman. The film also stars Anne Hathaway as Selina Kyle; Tom Hardy as Bane; Oscar winner Marion Cotillard (La Vie en Rose) as Miranda Tate; and Joseph Gordon-Levitt as John Blake. Returning to the main cast, Oscar winner Michael Caine (The Cider House Rules) plays Alfred; Gary Oldman is Commissioner Gordon; and Oscar winner Morgan Freeman (Million Dollar Baby) is Lucius Fox.