Both seasons available today 1/29 starting at 5pm PST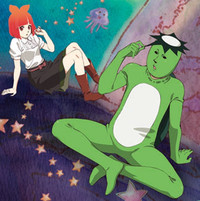 Crunchyroll is adding more anime to its growing catalog of titles, and today January 29, 2013 at 5PM PST, both seasons of Arakawa Under the Bridge will be available for viewing.
This much loved and off-kilter anime adaptation of the manga by Hikaru Nakamura was produced by studio SHAFT and ran on TV Tokyo in 2010.
Official Synopsis from NIS America:

Ko Ichinomiya's family motto is "Never be indebted to anyone," but after losing his pants and falling into the Arakawa River, he quickly finds himself in debt to his savior, the cutely insane Nino (who happens to live under the bridge). To repay her, he vows to help her with her desire to "experience love." Along the way he'll meet the river's other residents, including a hot-blooded kappa, a Sister in drag, and a literal rock star. Sorry, Ko—when you fell into that river, I guess you really got in over your head!
Arakawa Under the Bridge will be available to Crunchyroll audiences in the United States and Canada. The first 6 episodes will be available for all users, with the rest available for Premium Members.
The show page will be up soon at www.crunchyroll.com/arakawa-under-the-bridge
More new additions to the catalog are coming soon, so stay tuned to Crunchyroll News for further announcements!
--------
Patrick Macias is editor in chief of Crunchyroll News. He also runs the Japanese Fashion Inferno tumblr blog. Follow him on twitter at @Patrick_Macias.