3 Titles from Aniplex Go Live Fri-Sun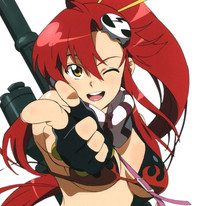 The weekend is off to an earth-shattering start as Crunchyroll adds three anime titles from Aniplex to the ever-growing library of streaming video, including Ghost Slayers Ayashi, R.O.D -The TV, and… Gurren Lagann!
Originally airing in 2007, Gainax studio's increasingly classic Gurren Lagann begins streaming tonight, Fri/3 at 5pm, PST. Additional episodes will go live every Friday at 12 noon PST. Premium Crunchyroll members get 3 episodes a week, while free users get 2.
Synopsis: In his sky-less cavern of a village Simon toils daily, drilling holes to expand his stifling little world until one day he makes an extraordinary discovery, a small glowing drill-bit and the man-sized mecha it activates. Before he can give it a second thought Simon is dragged into a plot to break through to the surface by the local gang leader Kamina, only to have the ceiling come crashing down on top of them under the weight of a giant monster! It somehow falls onto the boisterous Kamina and the cowardly Simon to defend their village but once they defeat the monster what awaits the duo on the surface world? Get ready for buxom babes, beastmen, and giant mecha as only GAINAX can provide them! BUST THROUGH THE HEAVENS WITH YOUR SOUL, GURREN LAGANN!
Studio Bones' Ghost Slayers Ayashi, from 2006, launches tomorrow Sat/4 at 12 noon PST. Premium members get all 30 episodes while free members get 3 per week.
Synopsis: Throughout Edo many fi ends walk the shadows brought about by twilight but few truly understand their origins. What are the Youi and where do they come from? With the sudden appearance of these beasts at the recent construction projects within the Inba swamp an answer to this question is realized. Using Atl's powers the Western One's begin their campaign against the Shogunate and the Emporer himself. Yukiatsu must once again trust in the power of the Other World and assume his draconic form to defend a government that has viewed the Ayashi as little more than a band of vagrants. A battle rages in the skies over Japan as two great beasts attempt to wrest the fate of the nation from each other's dire claws, but just as victory seems apparent one of the Ayashi steps forward, sword drawn and prepared to betray his friends. With this traitor's attack are the Ayashi defeated and what of the fate of the nation.
R.O.D -The TV, originally from J.C. Staff circa 2003-2004, begins streaming on Crunchyroll at 12 noon PST on Sun/5. Premium members get the first 13 episodes, while free members get 3 per week.
Synopsis: From bulletproof dragons to lock-picks, a paper master manipulates paper to their will. In Hong Kong, three young paper masters, Anita, Maggie and Michelle, use their formidable skills to protect Nenene, an author targeted by a mad bomber. As their bodyguard duties take them to Tokyo, they will be educated on the dangers of literacy!
Territories for all titles are limited to US and Canada Only. Links to show pages will be added to this post when they go live.
--------
Patrick Macias is editor in chief of Crunchyroll News. He also runs the Japanese Fashion Inferno tumblr blog. Follow him on twitter at @Patrick_Macias.