8th single on sale now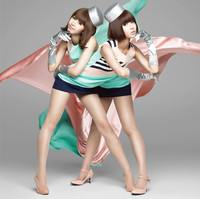 At first glance, Vanilla Beans don't look much like what people consider "Japanese idols" to be these days. For starters, there's only two of them, an anomaly in a crowded age of monster groups like AKB48 and Morning Musume. Also, the Beans (Rena and Risa, by name) are fully grown adults and not little kids in awkward situations, which makes being an age-appropriate fan a somewhat more comfortable proposition. Finally, there is the matter of their music and style, which takes a big step back from contemporary J-pop (itself, very influenced by K-pop these days) for something more influenced by the groovy 1960s and the breezy Shibuya-kei sound of the 1990s.
Either way, Vanilla Beans have a new single, a new music video in the form of "Muscat Slope Love". The minimalist PV seems like a one-take, one-camera affair at first, but subtle blink-or-you'll-miss-em changes occur in the background: 12 to count in all. And while I don't think the results are as solid and tuneful as previous outings "Chocolate Mint Flavor Time" and "Killer Queen", I'll give Vanilla Beans continued points for consistency and sharp dance moves.

Also, if you want to read more about Vanilla Beans, I've posted longer pieces on them over at my blog.
BONUS: Pics for the "Muscat Slope Love" single taken by photographer Leslie Kee.
--------
Patrick Macias is editor in chief of Crunchyroll News. He also runs the Japanese Fashion Inferno tumblr blog. Follow him on twitter at @Patrick_Macias.