And we haven't even gotten to some of the really exotic ones yet!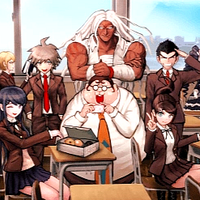 This summer's anime adaptation of Spike Chunsoft's (Dragon Ball Z Budokai Tenkaichi) Danganronpa: The Academy of Hope and the High School Students of Despair, takes a host of student character types, exaggerates the hell out of them, pairs them with all-star voice actors, and puts them into a devilishly convoluted life and death situation.
The premise is that top students, plus one normal person chosen by lottery, are accepted into the elite Kibogamine Academy. Unfortunately for them, they find themselves trapped in the school. To "graduate" they must commit the perfect murder. When a student is murdered, the suspect goes on trial. If the accused is rightfully convicted, they're gruesomely executed. If they are guilty but escape conviction, the rest of the students are killed.
Seiji Kishi (Angel Beats!, Humanity Has Declined, Persona 4: The Animation, Astro Fighter Sunred) is helming the anime remake with his Carnival Phantasm collaborator Makoto Uezu writing.
We've now gotten a preview of the first half of the cast... and we haven't even gotten to some of the really exotic ones yet!
Monokuma - Nobuyo Oyama (the voice of Doraemon!)
A strange teddy bear who proclaims himself to be the principal of the academy and initiates a life of mutual killing amongst the students.
Makoto Naegi - Ogata Megumi (Evangelion's Shinji Ikari, Yu-Gi-Oh's Yugi Mutou, YuYu Hakusho's Kurama)
The protagonist. An ordinary high school student who was accepted to the academy by raffle. He has no spectacular talents apart from his optimism and was given the title of Super High School Level Good Luck
Sayaka Maizono - Makiko Omoto (Kirby)
A cheerful girl who is the leader of a five member nationally popular idol group. Makoto and Sayaka went to same junior high school. Her title is Super High School Level Idol
Leon Kuwata - Takahiro Sakurai (Ja'far from Magi, Atsumu Matsuyuki from AnoHana, Koko from Toriko)
A brash teenager who is exceptionally good at baseball. His title is Super High School Level Baseball Player
Kyoko Kirigiri - Yoko Hikasa (K-on!'s Mio, Flowers of Evil's Nanako Saeki, Highschool DxD's Rias Gremory)
A mysterious female who seemingly has amnesia but also possesses a cool head and reasoning skills. The skill for she was accepted into the academy for is unknown, so her title is Super High School Level ???
Byakuya Togami - Akira Ishida (Naruto's Gaara, Gundam SEED's Athrun Zala, Gintama's Katsura Kotarou)
The successor of a highly successful family corporation who considers himself superior to all the other students in the academy. His title is Super High School Level Heir
Hifumi Yamada - Kappei Yamaguchi (Detective Conan, Ranma, InuYasha, Death Note's L, One Piece's Usopp, Persona 4's Teddie)
An otaku student who is a popular dojin manga artist. He proclaims that his interests are solely in the "2D World". His title is Super High School Level Dojin Creator
Mondo Owada - Kazuya Nakai (Gintama's Hijikata Toshirou, One Piece's Roronoa Zoro, Samurai Champloo's Mugen, Sengoku Basara's Data Masamune)
A hot-blooded student who is a head of the largest bosozoku group in the country. His title is Super High School Level Delinquent
Toko Fukawa - Miyuki Sawashiro (Hunter × Hunter's Kurapika, Monogatari's Suruga Kanbaru, Maoyu's Female Knight)
A gloomy girl with a persecution complex who is a best selling novelist. Her title is Super High School Level Literature Girl
The full line-up features
Anime designs versus their game equivalents
From the games...
-------
Scott Green is editor and reporter for anime and manga at geek entertainment site Ain't It Cool News. Follow him on Twitter at @aicnanime.