Reversible cover features anime version and the original illustration by the mangaka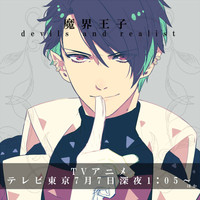 The Makai Ouji: Devils and Realist anime's official page has updated the home video release information with visuals of the first limited edition that comes with 10 bonus items.
1. Rubber strap " Itsudemo Issho Chibi William"
2. A Present From Makai Ouji Drama CD Vol.1
3. Post card illustrated by Yukihiro Utako
4. Post card illustrated by Sadakata Kikuko
5. Non-credit opening theme "Believe My Dice"
6. Monthly Makai Guide vol. 1 (a booklet)
- 4 koma manga by Yukihiro Utako
- Cast Interview: Eguchi Takuya
- Introduction of characters
7. Application for a fan event this Fall
8. Reversible cover
9. Picture label
10. Sleeve case
Blu-ray:7,140 yen
DVD: 6,090 yen
Contains Episode 1 and 2
Relase date: September 18th