Tribute offered with January issue, on sale December 13th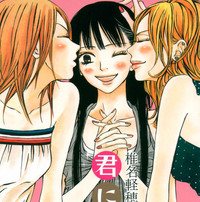 Shueisha's Bessatsu Margaret, a shoujo manga magazine for teenage girl readers, currently serializing Kimi ni Todoke, turns 50 in 2014. Its shounen siblings from the Jump family of magazines will be contributing to a special tribute, offered with the January issue, on sale December 13th.
Contributors include

- Oda Eiichirou (author of One Piece)
- Fujimaki Tadatoshi (author of Kuroko no Basket)
- Konomi Takeshi (author of Prince of Tennis)
- Sasuga Yuu and Tachibana Kenichi (story author and illustrator of Terra Formars)
- Oku Hiroya (author of Gantz)
- Araki Hirohiko (author of Jojo's Bizarre Adventure)
- Matsui Yuusei (author of Ansatsu Kyoushitsu)
- Sorachi Hideaki (author of Gintama)
- Katou Kazue (author of Ao no Exorcist)
- Kishimoto Masashi (author of Naruto)
- Kubo Tite (author of Bleach)
- Amano Akira (author of Katekyou Hitman Reborn!)
- Peach-Pit (author of Rozen Maiden)
- Jigoku no Misawa (author of Kakko Kawaii Sengen!)
- Obata Takeshi (illustrator of Death Note and Bakuman)
- Usuta Kyousuke (author of Pyuuuu to Fuku! Jaguar)
- Hara Yasuhisa (author of Kingdom)
- One and Murata Yuusuke (story author and illustrator of One Punch-man)
- Akimoto Osamu (author of Kochira Katsushika-ku Kameari Kouen-mae Hashutsujo)
- Morita Masanori (author of Beshari Gurashi)
- Maijou Outarou and Oh! Great (story author and illustrator of Biorg Trinity)
- Nakama Ryou (author of Isobe Isobee Mongatari)
- Komi Naoshi (author of Nisekoi)
- Sako Toshio (author of Usogui)
- Masuda Kousuke (author of Masuda Kousuke Gekijou Gag Manga Biyori)
- Asada Hiroyuki (author of Tegami Bachi)
- Ishida Sui (author of Tokyo Ghoul)
- Yagi Norihiro (author of Claymore)
- Sakamoto Shinichi (author of Innocent)
- Asou Shuuichi (author of Saiki Kusuo no Sainan)
- Katsura Masakazu (author of Zetman)

Also, there's going to be another chapter of Orekoi!! (collaboration chapter of Nisekoi and Ore Monogatari!!).