The bento comes with a character sticker and box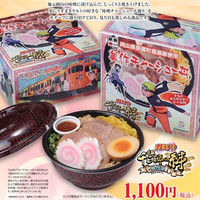 Ekiben is an abbreviation of "eki" (station) and "bento" (boxed lunch), and usually sold on Japanese trains and at stations. The Okayama Branch Office of JR West has started offering a special ekiben featuring the popular anime series Naruto. Okayama is well known as the home prefecture for Masashi Kishimoto, the original manga creator of Naruto.
The prefecture is now holding a tourist campaign "Naruto: The Bond of 1300 Years of Foundation in Mimasaka no Kuni" in cooperation with the Naruto franchise which includes the Naruto wrapping trains. The Naruto ekiben is produced to support promoting the campaign by JR West and a local bento company Miyoshino. As you can see, this ekiben is decorated like Naruto's favorite food, miso-taste ramen with char siu. But the actual content is donburi (rice bowl), not ramen. So it is named "Mimasaka Char Siu Don." The Naruto ekiben comes with a character sticker and box, and the price is 1,100 yen
(about US$11). It is now available at the JR Okayama station.
The flyer
Naruto wrapping trains images
Source: Sanyo Shimbun
© Masashi Kishimoto, Scott/Shueisha, TV Tokyo, Pierrot