ufotable to animate new opening for visual novel port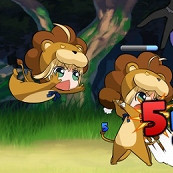 Fate/hollow ataraxia, the visual novel sequel set half a year after Fate/stay night, is set for release on PS Vita in a port featuring touch-screen support, full voice acting, a new ufotable opening, and mini-games including the new tower defense Capsule Servant.
In this, you choose elementary school-age Shiro (easy) or Rin (difficult), then use summoned servants to defend your tower and take out the opponent's.
Character design is by Medori, with contributions from ufotable, CHAN×CO, experience point, Yukio Hirai and Baguette.
Player character masters:
Shiro - Noriaki Sugiyama
Rin - Kana Ueda
Enemy masters
Sakura - Noriko Shitaya
Shinji - Hiroshi Kamiya
Luvia - Shizuka Ito
From the visual novel...