The 1st episode will be premiered at Japan Expo in Paris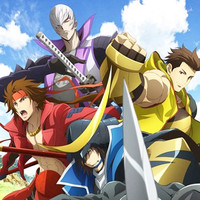 Nihon TV's official site for the upcoming TV anime Sengoku Basara Judge End, the latest TV anime adaptation of Capcom's popular video game series Sengoku Basara, today announced its premiere date, OP song artist, and additional voice cast.
The anime will premiere on Nihon TV on July 5, then followed by Yomiuri TV on July 14, then on BS Nittere on July 16. The OP song "Hokkyokusei ~Polaris~" is wirtten/composed/sung by Chiaki Ishikawa, who previously performed "Gyakkou," the ED theme song for the 2010 PS3/Wii game Sengoku Basara 3 (Sengoku Basara: Samurai Heroes) on which the story of the TV anime based. In addition to the already announced four actors, other voice cast for the game also reprise their roles in the anime. Check the list below.
And, Mantan Web also reports that the first episode of the TV anime will be premiered at Japan Expo to be
held in Paris, France, between July 2 and 6, alongside the first episode of Sword Art Online II and the K:
Missing Kings film.
The main voice cast:
Kazuya Nakai as Masamune Date
Souichiro Hoshi as Yukimura Sanada
Toru Okawa as Ieyasu Tokugawa
Tomokazu Seki as Mitsunari Ishida
Toshiyuki Morikawa as Kojuro Katakura
Tessho Genda as Shingen Takeda
Takehito Koyasu as Sasuke Sarutobi
Ryutaro Okiayu as Hideyoshi Toyotomi
Akira Ishida as Hanbei Takenaka
Fumihiko Tachiki as Yoshiysugu Ohtani
The main staff:
Original story: CAPCOM (Sengoku Basara 3)
Original concept supervisors: Hiroyuki Kobayashi (CAPCOM), Makoto Yamamoto (CAPCOM)
Director: Takashi Sano
Series composition: Natsuko Takahashi (Yuyushiki, BROTHERS CONFLICT, Lady Jewelpet)
Character designer: Michinori Chiba (Mobile Suit Gundam 00, Mobile Suit Gundam AGE)
Chief animation directors: Yumenosuke Tokuda, Toshimitsu Kobayashi
Art director: Daisuke Jinba
Color coordinator: Masumi Ohtsuka
Sound director: Miwa Iwanami
Animation Production: Telecom Animation Film
Key visual
Source: "Sengoku Basara Judge End" official site via Mantan Web
(c)CAPCOM/BASARA JE