Manga adaptation also starts serialization this month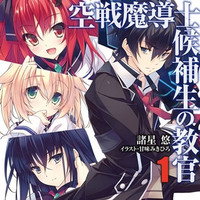 Japanese publisher Fujimi Shobo today announced that an anime adaptation of Yu Moroboshi's fantasy action light novel series Kusen Madoushi Kouhosei no Kyoukan (The Instructor of Aerial Combat Wizard Candidates) is in the works. The first volume of the novel series illustrated by Mikihiro Amami (Leaf's adult game Kizuato) was published in July 2013 from the publisher's Fujimi Fantasia Bunko imprint, and the latest 4th volume is scheduled to be released this week on July 19. Monthly Comic Alive will start serializing the novel's manga adaptation illustrated by Arisu Shidou on its September issue to be released in Japan on July 26.
The story is set in the world where the human race is forced to live in aerial floating cities by the threat of evil creatures called Makouchu. "Aerial Combat Wizard" created by magical power is the only countermeasure to the threat. The protagonist Age Katana in the floating wizard academy city Misutogan
was the elite ace of the S128 special platoon, once called "Master Swordsman of Black." However, people
now despise him calling "the traitor of the special platoon." One day, he is appointed as the instructor of the
E601 platoon which has lost battle after battle. The platoon has three eccentric girls — Misora Whitale, Lecty
Eisenach, and Rico Flamel.
The volume 1 cover
Volume 2
Volume 3
CM for the 4th volume
Source: Fujimi Shobo