Dare to be different like Maki-chan!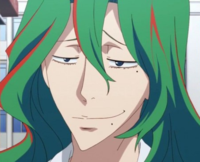 Green-haired cyclist Yusuke Makishima from Yowapeda left a very strong impression on anime viewers not only with his distinctive "spider" climbing style and his memorable speech style, he also left an impression with his very questionable fashion sense. Bandai has apparently decided to make an actual room wear ensemble for the fans to try out his fashion sense as well. Do you dare to wear it?
Here he is, Maki-chan out of his Sohoku cycle jersey and in the outfit that you can't help but ask where in the world he found those clothes. Now we can say, Bandai sells them!
Behold, a setup inspired by Yusuke Makishima's room wear.
the shirt has a different color sleeve on left just like anime.
The pants have the same unique design in front.
The room wear set comes in a nice bag to remind you and justify why you are dressing the way you are when you are wearing it. It's okay, let's go watch some bike racing on TV. The set is priced at 8,640 yen at retailers such as AmiAmi in Japan and open for pre-order with the release date around November this year.
Source: Rottengirl
(C)渡辺航(週刊少年チャンピオン)/弱虫ペダル製作委員会