Featuring the Priestess of Byakko written in Shi Jin Tenchi Sho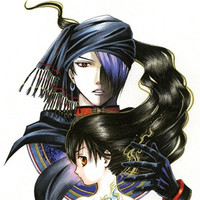 The March 2015 issue of Shogakukan's Monthly Flowers, which is officially published today in Japan, announces that Fushigi Yuugi: Byakko Ibun, a new installment of Yuu Watase's long running Fushigi Yuugi manga series, will start in the magazine's next April 2015 issue to be published on February 28. The new story will feature the Priestess of Byakko, who is written in the ancient book Shi Jin Tenchi Sho found by the protagonist of the first installment.
The first original manga series Fushigi Yuugi was serialized in Shogakukan's Shoujo Comic from 1992 to 1996, then compiled in 18 tankobon volumes. The spin-off series Fushigi Yuugi: Genbu Kaiden followed in 2003-2013 with 12 volumes. The total number of copies printed of the series has reached 17 million in Japan.
Ad for the Monthly Flowers April 2015 issue
via: Comic Natalie
© Yuu Watase/Shogakukan