Advance screening event will be held on March 22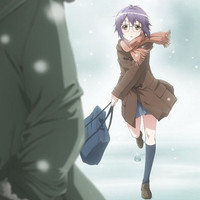 The official website and Twitter for the upcoming Satelight-produced TV anime adaptation of Nagato Yuki-chan no Shoshitsu/The Disappearance of Nagato Yuki-chan manga launched today. It is based on Puyo's official spin-off series of Nagaru Tanigawa's Haruhi Suzumiya light novel series.
Now you can check black and white character references of the Nagato Yuki-chan version of the main characters in its character page: Nagato Yuki, Kyon, Ryouko Asakura, Mikuru Asahina, Tsuruya-san, Haruhi Suzumiya, Itsuki Koizumi, Taniguchi, and Kunikida. The official Twitter has also posted a photo of samples of the character stamps. It says that they will make them as many as retweeted.
あたしたちの似顔絵が入ったハンコ。早速、商品見本が上がり監督が押し押ししてるっさね。 欲しかったらリツィートにょろ。ツイートしてくれた分だけ作るっさ! http://t.co/MAdGlfjVzE #有希ちゃん pic.twitter.com/meQNEhEV5n

— TVアニメ「長門有希ちゃんの消失」 (@yukichan_anime) February 16, 2015
As reported, an advance screening event for the first episode will be held at Kadokawa Cinema Shinjuku
in Tokyo on March 22. It will also include a talk show by the main voice cast except Aya Hirano (Haruhi
Suzumiya) and Daisuke Ono (Itsuki Koizumi), all of whom reprise their roles from the previous anime
series produced by Kyoto Animation. The general tickets for the event will go on sale on March 7.
The TV anime The Disappearance of Nagato Yuki-chan is slated for this April.
TV anime key visual
Manga 1st and 7th volume covers
Source: "The Disappearance of Nagato Yuki-chan" official website, Twitter
(C)2015 Nagaru Tanigawa, Noizi Ito, Puyo/KADOKAWA Kadokawa Shoten?Kita High School Literature Club