FUNimation has acquired the streaming and home video license for spring anime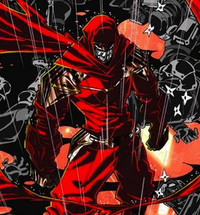 FUNimation has announced the acquisition of the streaming and home video license for Ninja Slayer, with the series form the makers of Little Witch Academia, Inferno Cop, and Kill la Kill joining their spring simulcast line-up.
The describe the show:
Ninja Slayer's origin is shrouded in mystery; although it originally appeared as a novel series posted on Twitter in Japan, legend has it that it was actually translated from an original English series from two enigmatic American creators, Bradley Bond and Philip [email protected] Morzez, who are totally on the run from actual ninjas. Who knows? All we can say is that with this origin story and this studio, Ninja Slayeris going to be way over-the-top and frickin' awesome.
Ninjas. Karate. Sushi. The dystopian cyber underworld of Neo-Saitama is ruled from the shadows by an intricate web of drugs, yakuza gangs, and evil syndicate ninjas wielding fearsome "karate." In a sea of the blood of his enemies, a lone maverick stands. NINJA SLAYER is a ninja who kills other ninjas in the name of ninja vengeance. A former salaryman whose family was killed by evil ninjas, Ninja Slayer cheats death and casts away his past to embrace the dark, mystical NINJA SOUL, a mysterious spirit that grants him great power in his quest for revenge. But will this bloodthirsty spirit consume Ninja Slayer before his enemies are all "dead on departure?" Domo. I'm Ninja Slayer.
And here's your Japanese voice cast:
CHARACTER
VOICE ACTOR
PREVIOUS ROLES
Ninja Slayer/
Kenji Fujikido
Toshiyuki Morikawa
Isshin Kurosaki (Bleach), Naraku (Inuyasha),
Shishiwakamaru (Yu Yu Hakusho)
Dark Ninja/
Fujio Katakura
Sho Hayami
Sosuke Aizen (Bleach), Nicholas D. Wolfwood (Trigun)
Nancy Lee
Chiwa Saito
Homura Akemi (Puella Magi Madoka Magica),
Hitagi Senjyogahara (Bakemonogatari)
Yamoto Koki
Sora Amamiya
Akame (Akame ga Kill!), Touka Kirishima (Tokyo Ghoul),
Asseylum Vers Allusia (Aldnoah.Zero)
Dragon Yukano
Risa Taneda
Xenovia (High School DxD New),
Kaori Miyazono (Your Lie in April),
Mirai Kuriyama (Beyond the Boundary)
Laomoto Khan
Masane Tsukayama
Zoken Mato (Fate.Zero)
Clone Yakuza
Tessho Genda
Kurama (Naruto)
Simulcast launch date and time are still TBD.
------
Scott Green is editor and reporter for anime and manga at geek entertainment site Ain't It Cool News. Follow him on Twitter at @aicnanime.