2nd part "Nekketsu-hen" is set for a release this summer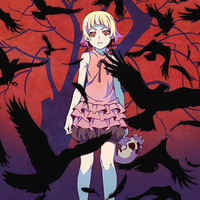 "Tekketsu-hen," the first part of the three-part anime film adaptation of Nisio Isin's Kizumonogatari novel was released in 108 theaters across Japan on January 8. The 60-minute film earned 177,058,000 yen on 131,973 admissions, ranking 3rd in its first weekend of January 9-10, which was 137 percent of the opening week gross of Girls und Panzer der Film (128,438,980 yen on 77 screens) released last November. The four-day total gross of "Tekketsu-hen" between January 8 and 11 was 322,509,300 yen on 243,702 ticket sales.
As reported, moviegoers of the first part receive a copy of the author's newly-written four-part mini crossover novel series Mazemonogatari for four consecutive weeks. The first week audience now get "Kyoko Balance" featuring Kyoko Okitegami from the Boukyaku Tantei series till January 15, then the second week audience will receive the second chapter "Jun Build" featuring Jun Aikawa from the Saikyou series from January 16 to 22.
Japan's Weekend Box Office (January 9-10)
1 (1). "Star Wars: The Force Awakens"
2 (2). "Yo-Kai Watch the Movie 2: King Enma and the 5 Stories, Nyan!"
3 (new). "Kizumonogatari Part 1: Tekketsu-hen"
4 (3). "Orange"
5 (new). "Bridge of Spies"
6 (new). "Jinsei no Yakusoku"
7 (new). "Pink to Gray"
8 (4). "Haha to Kuraseba"
9 (5). "Spectre"
10 (6). "Chibi Maruko-chan: A Boy who Came from Italy"
"Kizumonogatari Part 1: Tekketsu-hen" 2nd trailer
Poster visual
Source: Oricon Style
(C) Nisio Isin/Kodansha, Aniplex, Shaft