Three Weekly Shonen Jump titles top the ranking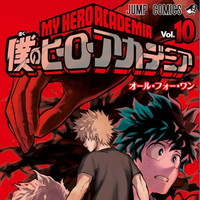 According to the new Oricon sales report, the latest 10th volume of Kohei Horikoshi's hero action shonen mange series Boku no Hero Academia/My Hero Academia, released in Japan on September 7, sold 208,539 copies in its first week, becoming the top-selling manga of the week. The 20th volume of Yuto Tsukuda and Shun Saeki's Shokugeki no Soma ranks second with 169,948 copies, and the 16th volume of Daisuke Ashihara's World Trigger follows in third place selling 143,333 copies.
The last No.1 volume of the manga series in the weekly sales chart was the regular edition of its seventh with 149,444 copies released in February of this year. And the best first week sales record was 221,235 copies marked by its eighth, released when the first season of the TV anime adaptation premiered in Japan. So the upcoming second season is expected to push up the sales of the manga more again. The total print run of the series has already exceeded 5.2 million copes in Japan by June 2016.
"Boku no Hero Academia/My Hero Academia" tankobon first week sales:
1st volume (November 4, 2014): 71,575
2nd volume (January 5, 2015: 167,905
3rd volume (April 3, 2015): 132,801
4th volume (June 4, 2015): 163,233
5th volume (August 4, 2015): 194,805
6th volume (November 4, 2015): 175,287
7th volume (February 9, 2016): regular edition-149,444, limited edition with a drama CD-18,656
8th volume (April 4, 2016): 221,235
9th volume (June 3, 2016): 197,805
10th volume (September 7, 2016): 208,539
Manga 1st and 10th volume covers
Source: Oricon
© Kohei Horikoshi/Shueisha, My Hero Academia Production Committee