Hiroki Miura (Keigo Atobe in The Prince of Tennis musicals) is cast as Eren Yeager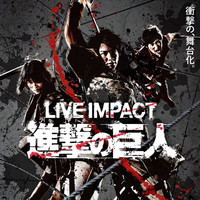 The official website for the upcoming stage play adaptation of Hajime Isayama's mega hit manga series Shingeki no Kyojin/Attack on Titan, titled "LIVE IMPACT Attack on Titan" has revealed the cast for its three main characters and their visuals: 17-year-old Hiroki Miura as Eren Yeager, 29-year-old Minami Tsukui as Mikasa Ackerman, and 23-year-old Shogo Sakamoto as Armin Arlert.
The stage play is scheduled to be performed at Maihama Amphi Theater in Chiba Prefecture 55 times from July 28 to September 3 (July 28-30 performances are previews). The total number of the cast members is expected to be over 150. Ex-Takarazuka Revue director Akiko Kodama, who recently worked on the stage play adaptations of Naruto and Fairy Tail, is attached to direct, alongside movement director Alexandra Rutter (Whole Hog Theatre) and soundtrack composer Shunsuke Wada (Musical Black Butler, Haikyu!!, Ace of Diamond). Advance tickets will be offered to the play's mail magazine subscribers first from February 26, then the general sale will begin on April 9.
As reported, this stage play is a dream project for Shintaro Kawakubo (aka Back), the editor at Kodansha
in charge of Isayama's original manga series. He previously said on his personal Twitter that the stage project
was born from his idea, not from Isayama. He is confirmed to serve as the co-producer of the play alongside
Nelke Planning's Makoto Matsuda.
Main Visual
Eren Yeager: Hioiki Miura (Keigo Atobe in The Prince of Tennis musicals, Monkey D. Luffy in One Piece Live Attraction)
Mikasa Ackerman: Minami Tsukui (Yoko Minato/Kamen Rider Marika in Kamen Rider Gaim)
Armin Arlert: Shogo Sakamoto (Ryoma Echizen in The Prince of Tennis musicals)
A filming for some kind of visual effect? at a studio in Tokyo
ライブ・インパクト「進撃の巨人」
着々と舞台化プロジェクト進んでいます。
都内某所で撮影中…! pic.twitter.com/od3D7QH5MG

— ライブ・インパクト「進撃の巨人」【公式】 (@shingeki_stage) December 28, 2016
Teaser Visual
Source: Kyodo Medias press release
(C) Hajime Isayama,Kodansha/LIVE IMPACT Shingeki no Kyojin Production Committee