The biggest anime event in Western Japan was held for two days on September 16&17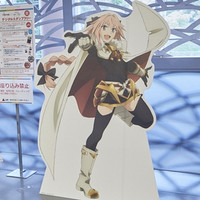 Executive committee of Kyoto International Manga Anime Fair (Kyo-Maf), the largest manga and anime comprehensive trade fair in the West Japan started in 2012, announced today that its sixth event attracted a total of 34,895 visitors (Miyako Messe: 28,436, Kyoto International Manga Museum: 5,003, Rohm Theater Kyoto: 474, Family Area: 145) in two days of September 16 and 17.
Unfortunately, the number was a huge 9,041 less than last year, due to Talim, the 18th typhoon that ripped through western and northern Japan from Friday through Monday. The powerful typhoon caused serious road flooding in many areas and at least three deaths. Most of the public transportation in Western Japan, including planes, trains, and highway buses, were halted on Sunday, and all of the outdoor events of the fair (mainly in the Family Area) were cancelled.
But still, many hardcore anime/manga fans gathered at the venues in Kyoto-city, ignoring the heavy
rain and wind. Check out the official photos from the event provided by the executive committee below.
Total number of the visitors (by year)
2012 (1st): 23,800
2013 (2nd): 31,800
2014 (3rd): 40,576
2015 (4th): 36,951
2016 (5th): 43,936
2017 (6th): 34,895
---
Miyako Messe exhibition booth
Kyomaf stage: Rohm Theater Kyoto South Hall
Open stage
Kyomaf Shop
Chara Cafe
"HiGH & LOW" Exhibition in Kyomaf 2017
"Fate/Apocrypha" Digital Stamp Rally
Kyoto International Manga Museum
Source: Kyoto International Manga Anime Fair Executive Committee press release