Novels about little sister who writes novels about little sister who loves big bro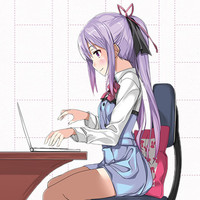 Publisher Fantasia Bunko has announced plans for an anime adaptation of Seiji Ebisu and Ginatou's 2016 light novel series Ore ga Suki nano wa Imouto dakedo Imouto ja Nai. The series follows a junior-high ideal student/popular class president who wins a light novel prize for writing "The Story Of A Little Sister Who Loves Her Brother," and then arranges with her big brother to present him as the author - despite the fact that he doesn't really know much about light novels.
Volume 4 was released in August.
【大発表!】新情報が続きます! 不器用な兄妹がラノベで繋がるラブコメディ「俺が好きなのは妹だけど妹じゃない」がアニメ化企画進行中でございます! 世のお兄ちゃん大歓喜!

— 富士見ファンタジア文庫公式 (@fantasia_bunko) October 21, 2017
------
Follow on Twitter at @aicnanime