Bones-produced original TV anime series is set to premiere on April 12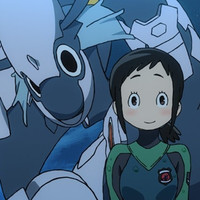 The official website for the upcoming original TV anime Hisone to Masotan posted a two-minute second PV introducing its OP theme song "Shoujo wa Ano Sora wo Wataru" (A Girl Crosses That Sky) performed by the 8th Toho Cinderella Audition Grand Prix winner Riko Fukumoto, who is still a 17-year-old high school student in Osaka. The song will be released as her singer debut single on May 30.
2nd PV
Riko Fukumoto
第8回「東宝シンデレラ」オーディショングランプリを受賞した【福本莉子さん】がOPテーマを担当!!!!
「何色にも染まっていない歌声がほしい。」という樋口総監督のリクエストのもとに抜擢された。作詞:岡田麿里、作曲・編曲・プロデュース:岩崎太整。https://t.co/URsOyfVnqu#ひそまそ #福本莉子 pic.twitter.com/fb3jLn9Dls

— ひそねとまそたん (@hisomaso_anime) 2018年3月10日
---
The original TV anime is co-created by BONES, Shinji Higuchi (Shin Godzilla director), and Mari Okada
(Anohana: The Flower We Saw That Day). Higuchi serves as general director alongside director Hiroshi
Kobayashi (Kiznaiver) and character designer Yoshiyuki Ito (Space Dandy, Concrete Revolutio). It is
set to premiere on Tokyo mX, BS Fuji, and Gifu Housou on April 12.
The story of the series is introduced as below:
Straightforward and innocent Hisone Amakasu is a rookie self-defense official. She was struggling with
the fact that she sometimes hurts people unintentionally by her innocent words and decided to join in
Air Self-Defence, hoping to maintain a certain distance from people. This decision led her to a fateful
encounter which profoundly changes her life. It was the dragon hidden in the base and it chose Hisone
as his pilot. When it soared into the sky with Hisone, her fate as a dragon pilot was decided. It is said
that dragons have a key to the future of the world…
And the first episode "It is insane" as:
Hisone Amakasu tends to hurt people unconsciously, as she is too honest. Suffering in a relationship,
she joined Japan Air Self-Defense Force (JASDF) as a fixed term staff and was assigned to Gifu base.
One day Hisone was sent to "the 8th hangar" and there bumped into a dragon. And what is more,
she was swallowed by him! The dragon is called OTF (Organic Transformed Flyer), which has been
managed by JASDF since ancient times. This is how Hisone's new phase of life as a dragon pilot begins.
2nd key visual:
【最新情報】キービジュアル第2弾が解禁になりました!!!!!
大空を飛び回るまそたん。樋口総監督がこだわった戦闘機に擬態したドラゴン達の姿も初公開!!
前回のKVとは違う表情を見せるメインキャラにも期待が高まる。

■4月12日(木)24:00~放送予定https://t.co/U85zV4SFmd#ひそまそ pic.twitter.com/HCFefpBljV

— ひそねとまそたん (@hisomaso_anime) 2018年3月10日
Main voice cast:
Hisone Amakasu: Misaki Kuno (Hawk in The Seven Deadly Sins, Momo Kawamoto in March Comes in Like a Lion)
Nao Kaizaki: Tomoyo Kurosawa (Otome Arisugawa in Aikatsu!)
El Hoshino: Maki Kawase
Liliko Kinutsugai: Satomi Arai (Kuroko Shiraic in A Certain Magical Index)
Mayumi Hitomi: Kaori Nazuka (Eureka in Eurka Seven)
Sada Hisamoto: Romi Pak
Haruto Okonogi: Yuki Kaji
Yutaka Zaito: Yukitoshi Tokumoto
Remi Kakiyasu: Rie Kugimiya
Hiroki Ikushima: Junichi Suwabe
Hiroshi Sosoda: Jouji Nakata
Source: TV anime "Hisone to Masotan" official website, Twitter
© BONES, Shinji Higuchi, Mari Okada/"Hisone to Masotan" ADTW