Isshiki-senpai and Nikumi cosplayers also appeared at Warner Brothers Japan booth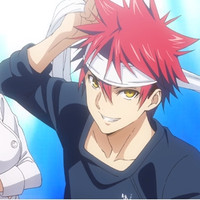 A new 60-second PV for the upcoming "Toutsuki Ressha/Toutsuki Train" arc of the TV anime Food Wars! The Third Plate featuring its new OP theme song "Symbol" performed by four-member rock band Luck Life was screened at the Warner Brothers Japan booth in the AnimeJapan 2018 event this weekend.
The first half of Food Wars! The Third Plate premiered on October 3, 2017, then its last 12th episode was aired on December 20. The highly-anticipated second half "Toutsuki Train Arc" is set to premiere on Tokyo MX and BS11 on April 8.
Meanwhile, two official cosplayers of Isshiki-senpai and Nikumi also appeared at the booth. Their photos
were posted on the anime's official Twitter.
Isshiki-senpai and Nikumi are giving out spoons and forks...!?
Come and see them at Warner booth (J-01), AnimeJapan!!!#shokugeki_anime pic.twitter.com/hF02IEAgcp

— 『食戟のソーマ』TVアニメ公式 (@shokugeki_anime) 2018年3月24日
【AnimeJapan速報!】
ただ今、一色先輩と肉魅が皆さまをお迎え中!!!!!!!!!
ワーナーブース(J-01)へ急げ!!!!!!!#shokugeki_anime pic.twitter.com/65zHWmSBL7

— 『食戟のソーマ』TVアニメ公式 (@shokugeki_anime) 2018年3月24日
本日もAnimeJapan2018 ワーナーブラザースブースには一色先輩と肉魅が来ております!ぜひおはだけ背景の壁面で記念撮影していってください(^^)
プラスティックスプーン&フォークも配布中!#shokugeki_anime pic.twitter.com/iEYZIjjs9x

— 『食戟のソーマ』TVアニメ公式 (@shokugeki_anime) 2018年3月25日
AnimeJapan2018ワーナーブラザースジャパンブースにお越し頂いた皆様、ありがとうございました! 放送まであと2週間!楽しみにお待ちいただけると嬉しいです(o^^o)#shokugeki_anime #wb_anime pic.twitter.com/UVXWEJgu6M

— 『食戟のソーマ』TVアニメ公式 (@shokugeki_anime) 2018年3月25日
---
"Food Wars! Shokugeki no Soma The Third Plate Toutsuki Train Arc" key visual
食戟のソーマ 餐ノ皿 遠月列車篇 新ビジュアルを公開!!
創真とえりなの後ろに司、竜胆、そして葉山が…!?
遠月列車篇、どんなストーリーになるのか4月からの放送をお楽しみに!#shokugeki_anime pic.twitter.com/CGcIWVKEEh

— 『食戟のソーマ』TVアニメ公式 (@shokugeki_anime) 2018年3月19日
Teaser visual
『食戟のソーマ 餐ノ皿』遠月列車篇が2018年4月よりTOKYO MX、BS11ほかにて放送決定!!新ビジュアルをお届けします!雪景色の中で一人佇む創真。一体どんなストーリーが展開されるのか…?!来年4月からの放送をお楽しみに!!#shokugeki_anime pic.twitter.com/CECNjQC1sS

— 『食戟のソーマ』TVアニメ公式 (@shokugeki_anime) 2017年12月16日
"Food Wars!: Shokugeki no Soma The Third Plate" key visual
Source: "Shokugeki no Soma" anime official website, Twitter
©Yuto Tsukuda, Shun Saeki/ Shueisha,Food Wars! Shokugeki no Soma Committee 3