Pre-orders for the 8,640 yen (80 US dollars) item will be closed on May 10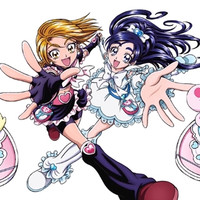 As part of the ongoing anniversary project for Toei Animation's PreCure franchise, Bandai's girls toy division will release the 15th anniversary edition Card Commune, the transformation item of the two main girls form the first TV series Futari wa PreCure (2004-2005), Cure Black and Cure White. When the anime was aired in Japan, the item was released as a playable toy for girls, but this anniversary edition recreates the details of the item accurately as illustrated in the anime.
In the story, the two fairies Mepple and Mipple transform into the form of Card Commune and help Misumi Nagisa and Yukishiro Honoka transform into their PreCure form, Cure Black and Cure White, by slashing cards through the slit. In addition to its detailed looks, the item also includes the anime's soundtrack and sound effects used when PreCure attack their enemies, newly recorded character voices, and seven PreCure cards.
The price is 8,640 yen (80 US dollars) and its scheduled shipping date is August 2018. Pre-orders on
Bandai's official online store Premium Bandai will be closed on May 10. Learn more about the special
item with the PV below.
Source: Bandai Girls Toy Division press release
(C)ABC-A, Toei Animation