Jeanne a-t-elle besoin d'aide ?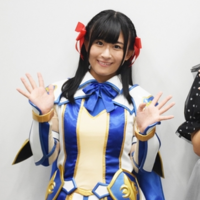 Voix de Jeanne d'Arc, l'héroïne de la série Ulysses: Jeanne d'Arc and the Alchemist Knight en cours de diffusion, la jeune comédienne de doublage Yûko Ôno se voit contrainte de mettre sa carrière en pause afin de se concentrer sur le traitement de problèmes de santé. Leur nature n'a pas été dévoilée publiquement, mais on lui souhaite dans tous les cas un bon et prompt rétablissement.

Ayant débuté sa carrière en 2016, la comédienne avait obtenu l'an dernier son premier rôle principal en interprétant Jun, l'héroïne de Tenshi no 3P. Par la suite, elle a joué plusieurs autres rôles importants, comme Yuzu et Aya, protagonistes respectives de Konohana Kitan et Magical Girl Site.
Sources : Mausu Promotion via ANN