The three main voice actresses will form a musical unit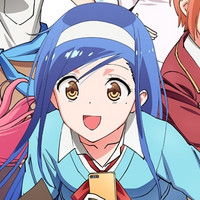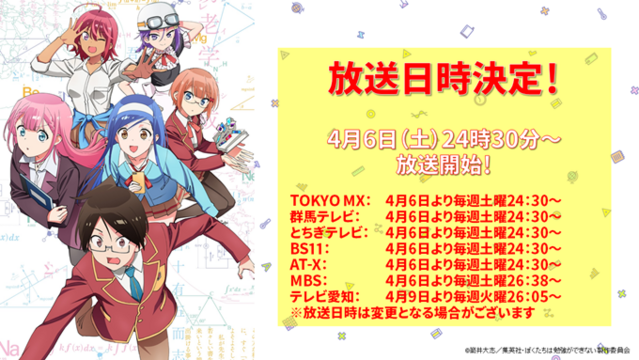 Aniplex announced today that the forthcoming TV anime adaptation of Taishi Tsutsui (Magical Patissière
Kosaki-chan!!)'s school comedy manga Bokutachi wa Benkyo ga Dekinai/We Never Learn is set to premiere
on TOKYO MX, Gunma TV, Tochigi TV, BS11, AT-X, and MBS on April 6, 2019, then on TV Aichi three days later.
To promote the premiere, the anime's six main voice cast: Ryota Oosaka (Nariyuki Yuiga), Haruka Shiraishi
(Fumino Furuhashi), Miyu Tomita (Rizu Ogata), Sayumi Suzushiro (Uraka Takemoto), Lynn (Mafuyu Kirisu),
and Madoka Asahina (Asumi Kominami) will join special stage event at AnimeJapan 2019 at 10:50 on March 23.
In addition to the announcement for new information, musical unit "Study" will perform on the stage.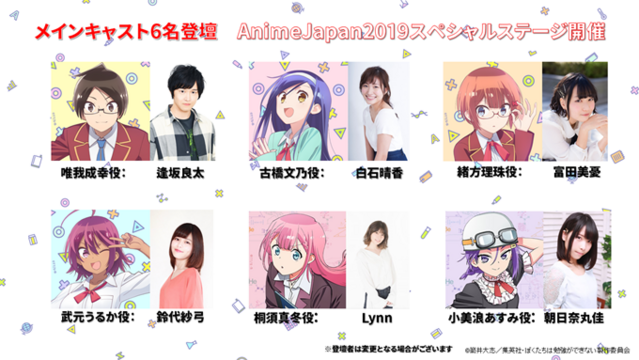 And it is also confirmed that the anime's three voice actresses: Haruka Shiraishi (Fumino Furuhashi), Miyu
Tomita (Rizu Ogata), and Sayumi Suzushiro (Uraka Takemoto) will form a new musical unit and start their
activities in 2019. Currently no details are available, but the unit is expected to perform the theme songs for
the anime.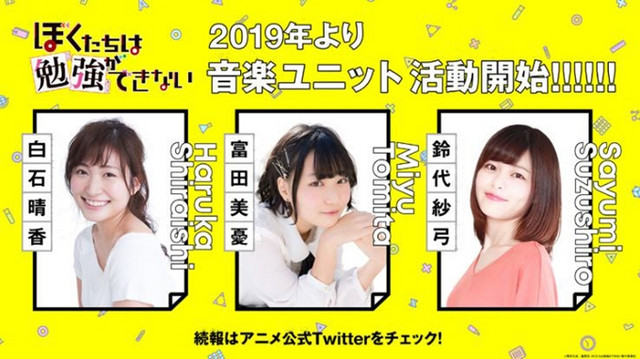 Promotional poster visual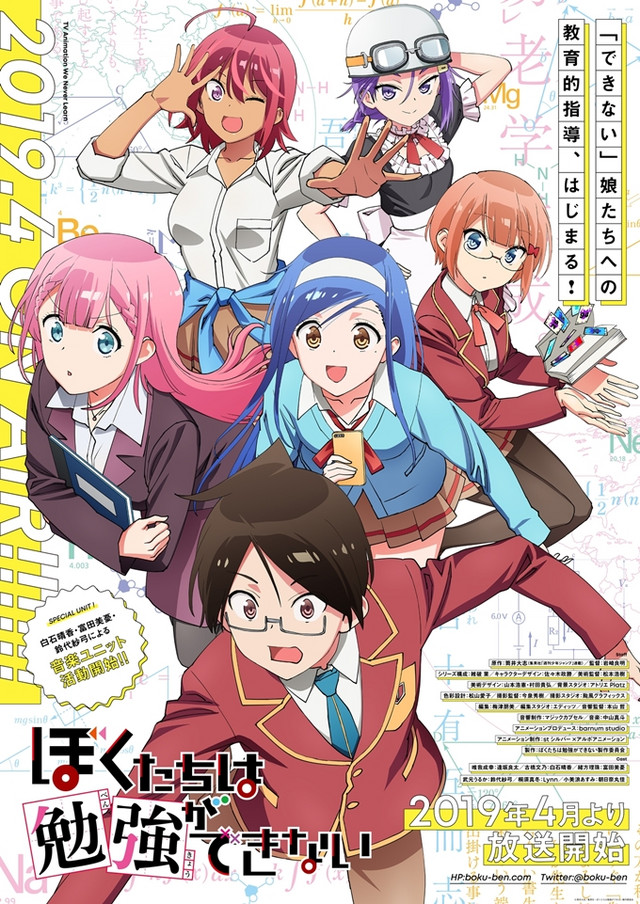 \第二弾PV公開中!/
2019年4月より放送の
TVアニメ「ぼくたちは勉強ができない」の第二弾PV公開中!

「できない」娘たちへの教育的指導、はじまる!

AnimeJapan2019ではスペシャルステージも!
▼公式HP▼https://t.co/BD0E79lg4K#ぼく勉

pic.twitter.com/muravQPnXq

— 「ぼくたちは勉強ができない」公式 (@bokuben_anime) 2019年2月22日
---
As the author's first original serialization work in Shueisha's Weekly Shonen Jump, Bokutachi wa Benkyo
ga Dekinai/We Never Learn has been serialized since its 10th issue of 2017, and currently ten tankobon
volumes are available in Japan. The first volume of its English edition was released by VIZ Media on
December 4, 2018. The publisher introduces its story as below:
---
When studious Nariyuki tutors two supergeniuses who are total dunces in their favorite subjects, he'll
get a crash course in love!
Nariyuki Yuiga comes from an impoverished family, so he's eager to secure a full scholarship to college
when he graduates high school. His principal agrees, with one stipulation—he must tutor the two smartest
girls at the school and make sure they get into their target colleges! Rizu is a science genius who wants
to study liberal arts. Fumino is effortlessly good at literature, but math makes her head spin. Nariyuki is
stuck between a rock and a hard place, but who can complain about tutoring a couple of cute girls?
Nariyuki is facing the chance of a lifetime if he can just make sure that Fumino and Rizu excel and get
into the schools they want to attend. He comes prepared to tutor them, but he isn't prepared for burgeoning
high school romance! Sparks begin to fly, no matter how much Nariyuki tries to avoid it—and things get
even more complicated when a third girl joins the study group!
---
Manga tankobon 1st and 10th volume covers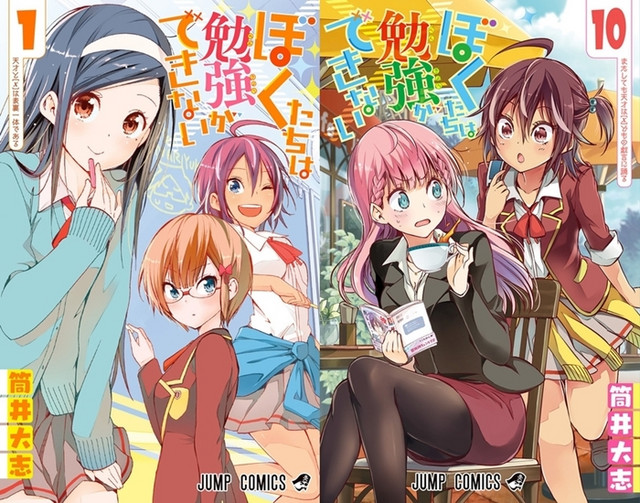 ---
Source: Aniplex press release
©Taishi Tsutsui/Shueisha, Bokutachi wa Benkyo ga Dekinai Production Committee