Koga: "It was a great honor to be involved in the live-action version as well."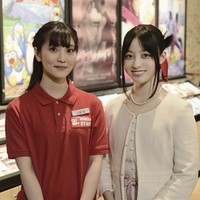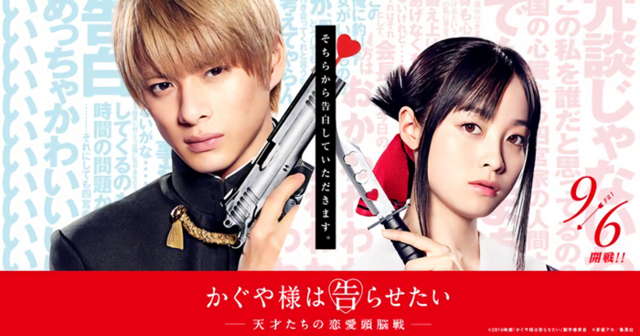 The official website for the forthcoming live-action film adaptation of Aka Akasaka's romantic comedy manga Kaguya-sama: Love Is War announced today that 25-year-old voice actress Aoi Koga, who voiced the title character in the TV anime aired in Japan from January to March 2019, made a guest appearance to act together with Kanna Hashimoto, who plays the role in the film.
Koga's character name in the film is also "Aoi Koga." She plays one of the movie theater staff who serves Kaguya. During serving her, another brain battle between Kaguya and Miyuki Shirogane suddenly happens.
Koga says, "I was very surprised because I did not think that I could receive this offer. But it was a great honor to be involved in the live-action version as well." She also praises the film's two main cast, 20-year-old Kanna Hashimoto (Kagura in the Gintama live-action films) as the title character Kaguya Shinomiya and 22-year-old Sho Hirano (Johnny & Associates' boys idol group King & Prince member) as her love interest Miyuki Shirogane. "The council president played by Hirano-san, Kaguya by Hashimoto-san, they expressed the difference between the anime and live-action in a good way, and they were so attractive. I hope the audience who plan to see this film will pay attention to that part and enjoy."
実写「かぐや様は告らせたい」に2人のかぐや?アニメ版声優・古賀葵が出演(コメントあり)https://t.co/Kka5el3ySU

#古賀葵 #橋本環奈 #かぐや様は告らせたい pic.twitter.com/pqbPYVCrGn

— 映画ナタリー (@eiga_natalie) 2019年6月14日
The Hayato Kawai (Nisekoi)-directed adaptation will hit Japanese theaters September 6, 2019
Teaser visual
★ティザービジュアル解禁★

自分からは告白することができない
白銀とかぐや。

そんな2人????????????????の
クールでありながら脳内????で
試行錯誤する様子が
可愛らしいビジュアル????が
完成しました????#かぐや様は告らせたい#平野紫耀 #キンプリ #KingandPrince #橋本環奈#映画かぐや様#恋愛頭脳戦 pic.twitter.com/fBWhcz8fdY

— 映画『かぐや様は告らせたい』公式 (@kaguyasama0906) 2019年4月25日
Full trailer
---
Source: "Kaguya-sama: Love Is War" live-action film official website, Movie Natalie
(C)2019 Movie "Kaguya-sama: Love Is War" Production Committee