Il gioco in stile musou uscirà il 20 novembre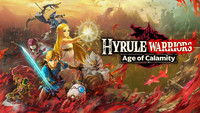 La Nintendo ha pubblicato un nuovo video, martedì, del nuovo gioco Hyrule Warriors: Age of Calamity della KOEI Tecmo. Il video mostra alcuni alleati che lottano contro Calamity Ganon. Il trailer esiste sia in inglese che in giapponese.
Inglese

Giapponese

Il gioco è il sequel di Hyrule Warriors e il prequel di The Legend of Zelda: Breath of the Wild, ambientato 100 anni prima di quest'ultimo. Il gioco uscirà il 20 novembre.
Il titolo è un gioco d'azione in stile Dynasty Warriors in cui si affrontano numerosissime orde di nemici. I giocatori potranno "combattere nei panni di eroi leggendari e vivere i toccanti eventi della Grande Calamità in prima persona".
Hyrule Warriors uscì per Wii U nell'agosto del 2014 in Giappone e nel settembre del 2016 in occidente. Hyrule Warriors Legends è uscito invece in Giappone nel gennaio del 2016 e in occidente nel marzo del 2016. Hyrule Warriors: Definitive Edition è arrivato per Switch nel marzo del 2018 in Giappone per poi giungere in occidente nel maggio dello stesso anno.
Fonte: canale YouTube della Nintendo (link 2) tramite Otakomu
Notizia originale di Rafael Antonio Pineda su AnimeNewsNetwork