Voice actresses of Galaxy Angel, The Idol Master, Madoka Magika, and more!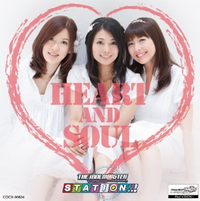 Here's the second collection of the popular anime voice actresses' promotion videos/CMs for their latest songs. The first collection is here. I have been reporting TOWER RECORDS Shinjuku Weekly Anime Song/album TOP 10, but there are many good songs by anime actresses not appearing in the ranking. See how talented they are!
"Euphoric Prayer"
Ryouko Shintani (16th single released on October 26)
  ・Milfeulle Sakuraba in Galaxy Angel
  ・Sachi Momoi in Maria Holic
"Anison Acoustics"
Junko Iwao (acoustic anime song cover album released on October 26)
・Tomoyo Daidouji in Cardcaptor Sakura
・Kazuko Saotome in Puella Magi Madoka Magica
"1,2,3"
Manami Numakura, Yumi Hara, Azumi Asakura
(Radio program "THE [email protected] STATION!!!" theme song)
"Aroma of happiness"
Asami Imai (2nd album released on November 30)
・Kurisu Makise in Steins;Gate
・Chihaya Kisaragi in The Idol Master
Related: VIDEO: Newest PVs by Anime Voice Actresses: Part 1
© Lantis
© J.Island
© NIPPON COLUMBIA