The rise of "Loli", and OVAs going strong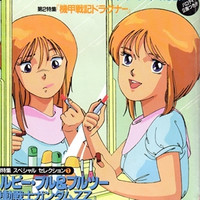 Probably the most featured and beloved anime character in 1987 was Elpeo Ple from Mobile Suit Gundam ZZ, the direct sequel to Mobile Suit Z Gundam. If memory serves me right, Ple, a 10 year old girl, was one of the earliest anime characters who was recognized and accepted openly as "loli character" by anime fans. Many Japanese fans still love her so passionately after 25 years. It is not difficult to find her doujinshi at the events even today.
Also many anime films and OVAs produced this year were exported to other countries later in 90s and became the first wave of "anime" to them. The notable titles of this year were; Wicked City, Bubblegum Crisis, Royal Space Force: The Wings of Honnêamise, and the most infamous adult anime Urotsuki Douji/Legend of the Overfiend.
January 1987 issue
 Cover: Elpeo Ple, Lina Ashta, and Syla Mass from Mobile Suit Gundam ZZ
 Illustration by Gaji Kamon
"Time Stranger" ad
February 1987 issue
Cover: Yuri & Kei from Dirty Pair, Batsu & Terry from Batsu & Terry
"Dirty Pair" VHS&LD ad
March 1987 issue
Cover: Transformers&Machine Robo
"Bubblegum Crisis" ad
May 1987 issue
Cover: Royal Space Force: The Wings of Honnêamise
Illustration by Yoshiyuki Sadamoto
"Wicked City" ad
June 1987 issue
Cover: Metal Armor Dragonar
Illustration by Kenichi Onuki
July 1987 issue
Cover: Elpeo Ple from Mobile Suit Gundam ZZ
Illustration by Hiroyuki Kitazume
"DEAD HEAT" ad
(3D original anime by Sunrise for VHD)
August 1987 issue
Cover: Magic Star Magical Emi
Illustration by Studio Pierrot
Back cover: Touch
September 1987 issue
Cover: Linda Plato from Metal Armor Dragoner
Illustration by Kenji Kanemori
"Hi no Tori/Phoenix: Yamato-hen" ad
---
Related:
FEATURE: Japanese Anime Magazine Retrospective: "OUT" in 1983
FEATURE: Japanese Anime Magazine Retrospective: "OUT" in 1984
FEATURE: Japanese Anime Magazine Retrospective: "OUT" in 1985
FEATURE: Japanese Anime Magazine Retrospective: "OUT" in 1986