The year of "AKIRA" and "Gundam: Char's Counterattack"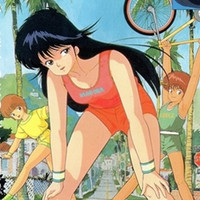 Any anime history book mentions that 1988 was an important year by reason of the release of Katsuhiro Otomo's epoch-making film AKIRA, the highest budget anime film at the time (production cost:1 billion yen). So many foreign people learned what "anime" was for the first time by this film in later years.
Another notable anime film of this year must be Mobile Suit Gundam: Char's Counterattack. The film concluded the long rivalry story between Char Aznable and Amuro Ray for 14 years since the first Gundam series. It is still the best Gundam movie in my opinion.
January 1988 issue
 Cover: Red Photon Zillion
 Illustration by Tatsunoko Production
Movie "Lupin III: The Plot of the Fuma Clan" ad
"City Hunter" TV series VHS&VHD ad
April 1988 issue
Cover: Quess Paraya from Mobile Suit Gundam: Char's Counterattack
Ilustration by Kikuko Kawata
Back cover: Urusei Yatsura: The Final Chapter
May 1988 issue
Cover: Anime Sanjushi/ Anime Three Musketeers
Illustration by Akira Okamoto
OVA "Six God Combination Godmars: The Legend of 17 Years Old" ad
August 1988 issue

 Cover: Red Photon Zillion
 Illustration by Akira Okamoto
OVA "Project A-ko 3: Cinderella Rhapsody" & "Vampire Princess Miyu" ad
September 1988 issue
Cover: AKIRA
Illustration by Akira Okamoto
Back Cover: "Kimagure Orange Road" song clips video

November 1989 issue
(only 1989 issue I have now...)
Cover: Mister Ajikko
Illustration by Masahiro Kase
OVA "Assemble Insert" ad
・based on the manga by Masami Yuki (Mobile Police Patlabor, Birdy the Mighty)
OVA "Angel Cop vol.2" ad
OVA "Yoroiden Samurai Trooper (aka: Ronin Warriors): Kikoutei Densetsu" ad
---
Archives:
FEATURE: Japanese Anime Magazine Retrospective: "OUT" in 1983
FEATURE: Japanese Anime Magazine Retrospective: "OUT" in 1984
FEATURE: Japanese Anime Magazine Retrospective: "OUT" in 1985
FEATURE: Japanese Anime Magazine Retrospective: "OUT" in 1986
FEATURE: Japanese Anime Magazine Retrospective: "OUT" in 1987