A gallery of Takahashi's club event fliers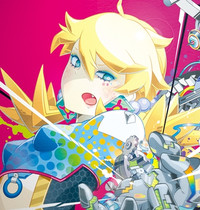 HYPERSONIC music club artist Hiroyuki Takahashi is nearly done with the next page of his original webcomic for Crunchyroll (and trust us, it will be worth the wait!). While he applies the finishing touches, here's a look at his spectacular work creating original characters and graphic design for Japan's underground music scene.
There's a reason why HYPERSONIC is set in a secret club, albeit one populated by cyborg DJs and the occasional weird Monster Girl: Hiroyuki Takahashi's artwork is closely linked to the rhythm and pulse of Japan's music scene. Not only does Takahashi often create original sleeve artwork for music CDs, but he's also created and designed lot of fliers for club events like TELEXISTENCE, Ani-Rhythm, and Ani-Love!!. The characters form the core of Hiroyuki Takahash's original illustration books, and directly inspired me to collaborate with him on HYPERSONIC music club, his first-ever original webcomic. In addition, Takahashi himself can sometimes be found in person at these after-hours events, exploring another side of his talent by doing live painting sessions. One of the major hubs of activity has been TELEXISTENCE.
Active since 2011, TELEXISTENCE is an electro music event held every two months in Tokyo. One of the main organizers is exbit trax, who also issues a line of mix CDs (which you can sample on Soundcloud). Takahashi designed the very first flier for TELEXISTENCE, and you can get a sense of how his art has evolved over the years by browsing through all of their CD jackets and fliers past. We present some of the very best ones below! See if you can spot some of the DNA of our HYPERSONIC story and characters within!
-------------------------------------------------
As for HYPERSONIC music club proper, as we said earlier, the next story page is coming along nicely and we will post it next week for sure. In the meantime, here's a tease of the drama that's about to burst forth: LANYA knocked to the floor by the power of some unseen force. What can it possibly be? FIND OUT SOON!
-------------------------------------------------
Lastly this week, we have an array of HYPERSONIC-related merchandise to offer you. The difference this time is… supplies are definitely running out and we are down to single digits on every item! If you've ever wanted to support Hiroyuki Takahashi, and the music club to boot, now would be a good time to pick something up before they're all gone!
From the artist of HYPERSONIC music club! Hiroyuki Takahashi's original cyber characters come to life in this deluxe full color 26 page illustration book. Now is your chance to own this visually stunning item, originally printed in limited quantities for sale at 2014 summer Comic Market in Japan.
VAL rocks the HYPERSONIC music club in this limited-edition high-quality print by artist Hiroyuki Takahashi. The artwork is 11" x 17" size and is printed on gloss cover paper stock.
The heroes of HYPERSONIC music club get the deluxe treatment in this B2 sized full color poster printed in Japan. Measuring 19.69 x 27.83 inches, this poster is limited to 20 copies available now at a special low price to celebrate the launch of HYPERSONIC music club!SIGNED BY THE ARTIST, Hiroyuki Takahashi himself!
Collect Hiroyuki Takahashi's stunning, colorful art for HYPERSONIC music with this set of 5 (five) postcards printed on high quality glossy 16pt stock. Set includes three art cards and two character cards.
From the artist of HYPERSONIC music club! Hiroyuki Takahashi reveals his unique creative process in this book which collects black and white sketches and line art for his original characters in a 64 page softcover book. Now is your chance to own this visually stunning item, originally printed in limited quantities for sale at 2014 winter Comic Market in Japan.
The amazing retro-game themed promo video for TORIENA and M7kenji's "Pulse Fighter" gets the deluxe treatment in this DVD-ROM containing a wealth of video and musical extras. Contains the full Pulse Fighter PV, rough cut, and outtakes, along with six bonus remixes of the "Pulse Fighter" song, and pixel data. Also includes a full color booklet featuring art by TORIENA herself. Exclusive from MADMILKY RECORDS. Compatible with PC and Mac. DVD package is signed by TORIENA herself!
----
NOW, as we prepare to dive deeper into the world of HYPERSONIC next week, here are the main links to keep track of!
HYPERSONIC music club Crunchyroll News page (Latest developments, new pages will on Crunchyroll News first)
hypersonic-music-club.tumblr.com (All art, bonus features)
hypersonic-comic.tumblr.com (story pages only, presented in standard webcomic format)
HYPERSONIC music club on Twitter (Updates, RTs of cool Japanese stuff)
HYPERSONIC music club on Crunchyroll Manga
Hiroyuki Takahashi on facebook (The artist himself!)
STAY HYPERSONIC, FIND THE MYSTERY FREQUENCY, AND SEE YOU NEXT WEEK!
------
Patrick Macias is editor in chief of Crunchyroll News and Otaku USA magazine. He is also the author of Paranoia Girls webcomic.