The new original webcomic by Hiroyuki Takahashi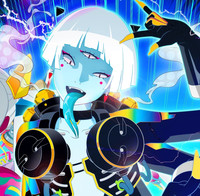 Zip Zap! After some delays, the story of Hiroyuki Takahashi's HYPERSONIC music club finally continues this week as the villains of the piece make their full-bodied debut. The question now is: Can your heart withstand the shock of… Extra Dimensional Monster Girls?
For those of you just joining us, HYPERSONIC music club (not to be confused with Sgt. Pepper's Lonely Hearts Club Band) is artist Hiroyuki Takahashi's first original webcomic and is exclusive to Crunchyroll (although you can read it here and here, too).
Our story is set in the year X85X, at a prison / school for young wayward cyborgs who are prone to partying and playing loud music when no one is around. This time though, they may have gone a bit too wild, because now, a trio of creatures from beyond have arrived on the scene to say…
Will our heroes, VAL and LANYA, survive the unexpected fury of their new Extra-Dimensional foes? And how are COSIMA and BYRD likely to hold up as music club itself turns into a punching bag? Just what the heck is the Mystery Frequency, anyways, and what secrets could it possibly hold? FIND OUT IN THE NEXT scintillating installment of HYPERSONIC MUSIC CLUB!
------------------
In the meantime, here's a recap of all of our story pages to date, capped off by an instant replay of our latest page in its proper place…
-----------------------
So what else is new at the HYPERSONIC honeycomb hideout? Well, we've just added some brand new limited edition merchandise in the Crunchyroll Store for you to peruse and consider (and a million thanks to everyone who has bought HYPERSONIC stuff from us before!).
11" x 17" Hiroyuki Takahashi "Makina Exclamation G" Art Print
NEW! An 11" x 17" art print of an original illustration that Hiroyuki Takahashi made for the cover of the "Makina Exclamation G" music CD by DJ DEPATH. This is one of Takahashi's most definitive images, and was a major inspiration on HYPERSONIC. We proudly offer it here in as a limited edition item printed on high quality heavy glossy stock.
ALSO, we're offering the original "Makina Exclamation G" CD itself, 14-tracks of dance music mixed by DJ DEPATH in the best Japanese underground music tradition. To make it even better, the cover jacket is SIGNED by Hiroyuki Takahashi himself! Check it out! You can sample the album itself below!
OTHER HYPERSONIC ITEMS ARE AVAILABLE IN THE CRUNCHYROLL STORE! PLEASE CHECK 'EM OUT!
----
NOW, as we prepare to dive deeper into the world of HYPERSONIC next week, here are the main links to keep track of!
hypersonic-music-club.tumblr.com (All art, bonus features)
hypersonic-comic.tumblr.com (story pages only, presented in standard webcomic format)
HYPERSONIC music club on Twitter (Updates, RTs of cool Japanese stuff)
HYPERSONIC music club on Crunchyroll Manga
Hiroyuki Takahashi on facebook (The artist himself!)
STAY HYPERSONIC, FIND THE MYSTERY FREQUENCY, AND SEE YOU NEXT WEEK!
------
Patrick Macias is editor in chief of Crunchyroll News and Otaku USA magazine. He is also the author of Paranoia Girls webcomic.