Thomas Romain appearances at Anime Expo on Fri/3 and Sat/4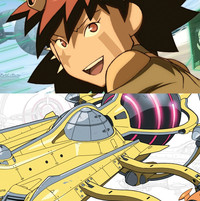 LOST IN ANIME is the first art book from Thomas Romain, a French Tokyo-based anime creator closely affiliated with Satelight inc.
LOST IN ANIME covers many of Thomas' designs, backgrounds, image boards and concept art for the past 10 years from his career in the Japanese anime industry along with English and Japanese comment text for each title. The book itself is 304 pages (A4 size) and in full color. Featured titles include SPACE DANDY, AKB0048, BASQUASH!, BODACIOUS SPACE PIRATES, and the upcoming CANNON BUSTERS.
Now, on the eve of Thomas Romain's in-person appearance at Anime Expo, we present an exclusive look inside his gorgeous new book that celebrates the first decade of his career in the Japanese anime industry.
The LOST IN ANIME art book is available only at the SATELIGHT BOOTH #40 at Anime Expo in the USA!
Thomas Romain is also having a panel this year at Anime Expo on Friday July 3, 2015 3:45pm - 4:45pm where he will talk about how he started working in the anime industry in Japan! COME MEET HIM IN PERSON!
ALSO... On the Crunchyroll Stage at AX...
Saturday, July 4th @ 12:30pm
Crunchyroll Presents ~ Creators, LeSean Thomas & Thomas Romain
The creative powerhouse behind Cannon Busters will be on the Crunchyroll stage to talk with us about the creative process behind bringing their series to life!
THOMAS ROMAIN BIO
Born in Paris, graduated from a famous animation school, Goblien, Thomas started his carrier in Japan. Inspired by Japanese anime, he moved to Tokyo to co-create, art-direct a France/Japan co-production TV series; "Oban Star-racers". Afterwards, he co-created "Basquash!" together with Shoji Kawamori (Macross creator) and currently he works at a studio, Satelight Inc. in Tokyo and handles various Japanese anime titles. His recent works are mecha designs for "Space Dandy" and "Cannon Busters" which made him widely known. He is now building a bridge between east and west by giving young western talents the opportunity to work within the Japanese entertainment industry and by showing Japanese producers those non-Japanese creators can bring fresh ideas into the anime world at the same time.
LOST IN ANIME PAGE SAMPLES