Music + Art = HYPERSONIC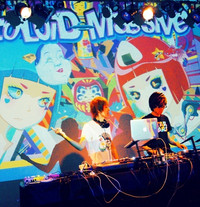 HYPERSONIC music club is Crunchyroll's original webcomic featuring eye-popping art by Hiroyuki Takahashi. But there's much, much more to Takahashi's abilities than just giving life to extraordinary cyborgs and demons who populate the HYPERSONIC story. Takahashi also excels in live drawing events where his skills are matched to foot stomping techno sounds.
While the DJs spin, Takahashi creates original works of art from scratch using only the path function in Adobe Illustrator (for more on Hiroyuki Takahashi's working methods, read our previous interview with him).
On Saturday, July 11th 2015, Hiroyuki Takahashi participated in the MOtOLOiD Massive event at the 2.5D studio at the Shibuya PARCO department store. Named after the space where 2D and 3D meet, 2.5D is a "Social TV Station" that livestreams a multitude of events typically revolving around music, DJs, idols, anime, manga, fashion, and Japanese subculture.
MOtOLOiD Massive was designed as a showcase for a loosely affiliated group of DJs who dabble in genres such as EDM, Vocaloid, and remixes. While they spun their groovy tunes on stage, Takahashi produced an original drawing that was projected behind them while the crowd went wild. Takahashi's drawing session lasted about an hour, but I've compressed the highlights into a video below. Enjoy the sounds and the sight of Takahashi building up one of his incredible eye-popping illustrations from scratch!
What's all this got to do with the HYPERSONIC music club webcomic? Quite a lot, actually! The combination of Takahashi's art and the sounds of Tokyo's club scene have directly influenced our story and characters down to the very core. Hopefully, you can see how we have arrived at story pages like the one below. HYPERSONIC is like a live Hiroyuki Takahashi event with a cyber SF twist…
-----------
So what else is going on? Well, right now we are in the planning stages of Chapter 2 of HYPERSONIC music club, so expect some changes and improvements in the pace of the story and art moving forward in a few months. We're also in talks for some new collaboration items (can't say what yet), but you've been requesting them for a while now. It should be pretty exciting when we can finally announce it!
Meanwhile, Hiroyuki Takahashi isn't getting a lot of rest… he's currently putting the finishing touches on his new full color Character Illustration Book Vol. 9 for Summer Comiket (we hear VAL and the gang from HYPERSONIC will be included inside). We plan on putting some signed copies in the Crunchyroll Store as well, where copies of Takahashi's previous illustration books are already up for sale (see bottom of this article).
Lastly, Hiroyuki Takahashi is creating caricatures on demand for a handful of lucky SNS users and plans on doing another round in September and October. Here's how he drew a couple of Twitter users...
Well, that's it for our update this week! Expect more story pages soon and the climatic conclusion of Chapter One of HYPERSONIC music club!
-------------------------
HELP SUPPORT HIROYUKI TAKAHASHI AND HYPERSONIC MUSIC CLUB! STUFF FOR SALE!
ALSO, we're offering the original "Makina Exclamation G" CD itself, 14-tracks of dance music mixed by DJ DEPATH in the best Japanese underground music tradition. To make it even better, the cover jacket is SIGNED by Hiroyuki Takahashi himself! Check it out! You can sample the album itself below!
From the artist of HYPERSONIC music club! Hiroyuki Takahashi's original cyber characters come to life in this deluxe full color 26 page illustration book. Now is your chance to own this visually stunning item, originally printed in limited quantities for sale at 2014 summer Comic Market in Japan.
From the artist of HYPERSONIC music club! Hiroyuki Takahashi reveals his unique creative process in this book which collects black and white sketches and line art for his original characters in a 64 page softcover book. Now is your chance to own this visually stunning item, originally printed in limited quantities for sale at 2014 winter Comic Market in Japan.
The amazing retro-game themed promo video for TORIENA and M7kenji's "Pulse Fighter" gets the deluxe treatment in this DVD-ROM containing a wealth of video and musical extras. Contains the full Pulse Fighter PV, rough cut, and outtakes, along with six bonus remixes of the "Pulse Fighter" song, and pixel data. Also includes a full color booklet featuring art by TORIENA herself. Exclusive from MADMILKY RECORDS. Compatible with PC and Mac. DVD package is signed by TORIENA herself!
MEME NOISE is the new EP by TORIENA featuring vocals by Kyun-Kun. Five tracks of stunning, futuristic chiptunes dance pop, including multiple versions of the title track. SIGNED BY TORIENA! Support the artist!
----
NOW, as we prepare to dive deeper into the world of HYPERSONIC next week, here are the main links to keep track of!
hypersonic-music-club.tumblr.com (All art, bonus features)
hypersonic-comic.tumblr.com (story pages only, presented in standard webcomic format)
HYPERSONIC music club on Twitter (Updates, RTs of cool Japanese stuff)
HYPERSONIC music club on Crunchyroll Manga
Hiroyuki Takahashi on facebook (The artist himself!)
STAY HYPERSONIC, FIND THE MYSTERY FREQUENCY, AND SEE YOU NEXT WEEK!
------
Patrick Macias is editor in chief of Crunchyroll News and Otaku USA magazine. He is also the author of Paranoia Girls webcomic.