Airbnb room rents in Tokyo for $65 a night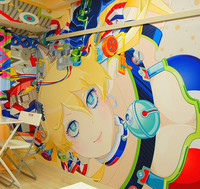 HYPERSONIC music club artist Hiroyuki Takahashi is making headlines in Japan with a new otaku-themed room available to rent via Airbnb that he helped to design. Enjoy some pictures of this new Tokyo landmark and enjoy more new art and updates from team HYPERSONIC below!
Just as otaku decorated cars ("itasha") and bicycles ("itachari") have become trends among anime and manga fans in Japan, we are now beginning to see the rise of "ita-beya", in which interior spaces are plastered with colorful 2D characters. Leading the charge is the So-Zo company, which creates custom-made wallpapers, bed sheets, curtains, and anything else you might need to make your otaku room dreams a reality.
As part of their product launch, Hiroyuki Takahashi was chosen by So-Zo to help design a bedroom in Tokyo's Azabu-Juban ward that would double as a short-term rental for the Airbnb service. The colorful results, which are decorated in 100% Takahashi art, speak for themselves below!
Hiroyuki Takahashi has even left behind a quick sketch on the wall!
If you'd like to stay in the Hiroyuki Takahashi ita-beya, then good news: it's currently listed on Airbnb for a very reasonable $65.00 a night. Click here for the listing!
SO-ZO's Ita-Beya page is also worth a look for more pics and info on wild otaku rooms. Click here and enjoy!
--------------------------
HYPERSONIC CONTEST!
We've got one Hiroyuki Takahashi drawstring bag ready to give away to one lucky person.
This was a special promotional item featuring image characters for Microsoft and Sakura internet that was made for the launch of So-zo's Ita-ben business and is not available for sale! WOW!
You have until Mon/10 to show us how much you love HYPERSONIC music club! Get creative! Grab our attention with HYPERSONIC fan art, cosplay, a video testimonial, skywriting, singing telegrams, anything unique and dramatic that gets our attention!
The best way to reach us, and to show us your efforts, is on Twitter via
GOOD LUCK!
------------------------------------
SO what else is going on at HYPERSONIC music club? Well, right now, Hiroyuki Takahashi is in Korea for the Seoul Illustration Fair. But when he's back in Japan, he'll get to work on the next story update for the HYPERSONIC webcomic. If you haven't seen our latest pages, you might want to get caught up here, as our first action scene is winding down. Meanwhile, we're getting planning underway for Chapter 2 of the story, and will be able to make some big announcements soon! Wish us luck and thanks for your support!!!
On top of HYPERSONIC and the Ita-beya otaku room, it's a pretty busy summer for Hiroyuki Takahashi. He's slated to appear at multiple events in Japan over the next few weeks including Comiket, Comitia, and Comic City where he will be selling his new illustration book (we hope to have signed copies in stock soon). Here's the dazzling booth poster that Takahashi will be using when he appears in person featuring some of his very best character art!
Some new club and event fliers from Takahashi have appeared since our last update as well! First is a flier for the Rizuani (Rhythm&Animation) party to be held on 9/27 at Akihabara MOGRA. Looks like fun…
Also, Takahashi delivered some groovy Shibuya gyaru-inspired art for a new Anison and Vocaloid live event called A-Love. The organizers also put on the crazy Ani-Love!! events that we reported on earlier. Check out the coverage here.
That's for our update for this week, but look for new HYPERSONIC music club story pages…soon!
-------------------------
HELP SUPPORT HIROYUKI TAKAHASHI AND HYPERSONIC MUSIC CLUB! STUFF FOR SALE!
The amazing cover art for the "Makina Exclamation G" CD is reproduced on this limited-edition high-quality print by HYPERSONIC artist Hiroyuki Takahashi. The artwork is 11" x 17" size and is printed on gloss cover paper stock.
ALSO, we're offering the original "Makina Exclamation G" CD itself, 14-tracks of dance music mixed by DJ DEPATH in the best Japanese underground music tradition. To make it even better, the cover jacket is SIGNED by Hiroyuki Takahashi himself! Check it out! You can sample the album itself below!
From the artist of HYPERSONIC music club! Hiroyuki Takahashi's original cyber characters come to life in this deluxe full color 26 page illustration book. Now is your chance to own this visually stunning item, originally printed in limited quantities for sale at 2014 summer Comic Market in Japan.
From the artist of HYPERSONIC music club! Hiroyuki Takahashi reveals his unique creative process in this book which collects black and white sketches and line art for his original characters in a 64 page softcover book. Now is your chance to own this visually stunning item, originally printed in limited quantities for sale at 2014 winter Comic Market in Japan.
The amazing retro-game themed promo video for TORIENA and M7kenji's "Pulse Fighter" gets the deluxe treatment in this DVD-ROM containing a wealth of video and musical extras. Contains the full Pulse Fighter PV, rough cut, and outtakes, along with six bonus remixes of the "Pulse Fighter" song, and pixel data. Also includes a full color booklet featuring art by TORIENA herself. Exclusive from MADMILKY RECORDS. Compatible with PC and Mac. DVD package is signed by TORIENA herself!
MEME NOISE is the new EP by TORIENA featuring vocals by Kyun-Kun. Five tracks of stunning, futuristic chiptunes dance pop, including multiple versions of the title track. SIGNED BY TORIENA! Support the artist!
----
NOW, as we prepare to dive deeper into the world of HYPERSONIC next week, here are the main links to keep track of!
hypersonic-music-club.tumblr.com (All art, bonus features)
hypersonic-comic.tumblr.com (story pages only, presented in standard webcomic format)
HYPERSONIC music club on Twitter (Updates, RTs of cool Japanese stuff)
HYPERSONIC music club on Crunchyroll Manga
Hiroyuki Takahashi on facebook (The artist himself!)
STAY HYPERSONIC, FIND THE MYSTERY FREQUENCY, AND SEE YOU NEXT WEEK!
------
Patrick Macias is editor in chief of Crunchyroll News and Otaku USA magazine. He is also the author of Paranoia Girls webcomic.