Dance mix inspired by Hiroyuki Takahashi's characters and story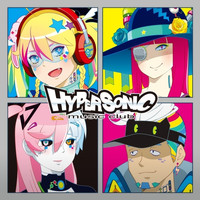 Velatix, a Hiroyuki Takahashi fan from down under in Australia, has just delivered the very first DJ mix inspired by HYPERSONIC music club! Enjoy some hardcore techno sounds below, followed by a short interview with Velatix himself, along with an update on the latest HYPERSONIC related happenings below!
BUT FIRST... HERE'S VELATIX's HYPERSONIC MUSIC CLUB MIX! ENJOY!
INTERVIEW WITH VELATIX
What made you want to make a HYPERSONIC music club mix?
I've always been a massive fan of Hiroyui Takahashi's work, so when I heard he was doing a web comic based around club/dance music I thought it would be a cool idea to have a soundtrack to go along with the story.
What is your interpretation of HYPERSONIC music club, for example, your feelings about the story and characters?"
My impression from reading the comic so far is that it's a story of friendship and energy. The antagonists have only just appeared in the last few pages so I'm interesting in seeing how it develops.
What are the ideas behind some of your song selection for this mix? Like, what made you choose these particular songs?
I really wanted to capture the energy that the comic gives with lots of vibrant, energetic music. Making the mix follow the mood of the comic was my main concern, starting off light before heading deep and darker into more hardcore techno/Schranz stuff. I mixed in as many Japanese tracks as possible; I've included music from EXBIT TRAX (a label Hiroyuki Takahashi is heavily affiliated with), DIETUNES (A label headed by Yohji Biomehanika and REMO-CON) as well as some small labels like Mind Circus Japan and even music from doujinshi releases.
What's your background as a DJ?
Velatix: I first started DJ'ing back in early 2013 (after my first trip to Japan). I was mainly a bedroom/Internet DJ back then doing shows on datafruits.fm. Moving on from there, I started playing some otaku-ish events such as Neko Nations and Cosparty but I still couldn't feel the vibe I'd felt back in Japan. Late last year Romance and myself formed COLD TECH (a play on Uniqlo's Heat Tech clothing line) and we've been hosting events in Melbourne and Chicago ever since.

What's your background as a fan of anime and/or Japanese subculture?
Haha, well, I've been a fan of anime after I first watched Neon Genesis Evangelion back in 2009 since then I've progressed more into manga and doujinshi stuff. The main turning point for me was going to Japan in early 2013 and seeing how people incorporated anime culture into other events such as music, video, and even food. It was really interesting to me seeing big name Japanese DJ's who are now headlining festivals like ULTRA wearing anime T-shirts or putting Anisong remixes in their sets. It really opened my mind up to going clubbing/music in general and it's what motivated me to start DJing

What is the Australian club scene like?
The Australian club scene isn't amazing but we have some great underground organizers putting in their all to put the focus of clubbing back on the music. While mainstream places are still a place to completely avoid, the underground clubs are hitting it off at the moment; We've got the boys at ONE PUF hosting fantastic UK BASS gigs on immense sound systems, We have/had HELL which is a super friendly and open place where you can go and really be yourself and make friends and of course COLD TECH which has a wide variety of bass/dance music as well as local and international guests DJ's (If you're in Melbourne keep your eyes out for the next event.)
What's the Australian otaku scene like?
Unfortunately the Australia otaku scene is really lagging behind other western countries (France/USA). Conventions and events here have become a bit monotonous with the same stuff on offer year after year. It's really unfortunate that Australia otaku haven't had the exposure to how immense the subculture they're apart of is, but myself and a few other people are working to change and evolve the scene down here. One day we'll have raves at our anime cons (lol).
I know you follow brands like PARK and galaxxxy and others in the "otaku x fashion x music" scene. How do you keep in touch with trends in Japan?

I've been friends with the people behind galaxxxy and PARK for a long time and I was actually lucky enough to be apart of one of the meetings that took place before PARK opened. I get a lot of info through social media such as twitter, pretty much any Japanese brand has a twitter account so that's a good place to start. I also have a lot of friends and contacts in the Japanese music scene so I'll receive lots of new material from them as well as listening to their radio shows on Block.FM. Fortunately I've been able to visit Japan three times over the last three years, that physical presence is what really helps me stay on the pulse.
Pics from Velatix's summer 2015 trip to Tokyo via his Instagram

What were some of the highlights of your most recent trip to Japan?
Being able to DJ at Hachioji's Anime/Internet bar GLUCK again was a big highlight, playing alongside Mus Hiba, Kosmo Kat and Wacko Yasuna was a lot of fun. Getting to meet people I look up to as a DJ like Bingo from Habanero Posse and Masayosii Iimori was fantastic. Going to music and fashion events, just talking to lots of different people (everyone is really open and friendly over there), making connections and discovering new things. I have to say though the biggest thing that sticks out in my mind was seeing Nature Danger Gang at a DJ Paypal gig on a Sunday night, Crazy.
Do you have any message for people listening to your HYPERSONIC music club mix?
Don't be afraid to try something new. Also I'd like to give a big shout out to all the people who've supported me! Big ups' Genre Cult, the Trekkie Trax Boys, all the guys over in Chicago running Cold Tech and everyone that's been following me over the last 2 (almost 3) years!
VELATIX LINKS
Facebook: https://www.facebook.com/velatixx
Soundcloud: https://soundcloud.com/velatix
Web: http://velatix.net/
Twitter: https://twitter.com/Velatix
Shop: http://yuuyuu.bigcartel.com/
-----------------------------------
So what else is going on at HYPERSONIC music club? Well, right now, Hiroyuki Takahashi is busy creating the artwork for what will be the finale of Chapter One of our story, but don't worry! We're busy setting up the planning for Chapter Two of HYPERSONIC and should have some actual facts about it to share before too long.
In the meantime, Hiroyuki Takahashi has made a major announcement of his own with word that he's teaming up with apparel maker tokone for a set of limited edition knee high tights to be sold as part of the VOGUE FASHION'S NIGHT OUT event at Harajuku's famed LAFORET department store on 9/12. Here's a look at some exclusive art made for tokone along with a look at the tights themselves.
-------------------------
HELP SUPPORT HIROYUKI TAKAHASHI AND HYPERSONIC MUSIC CLUB! STUFF FOR SALE!
The amazing cover art for the "Makina Exclamation G" CD is reproduced on this limited-edition high-quality print by HYPERSONIC artist Hiroyuki Takahashi. The artwork is 11" x 17" size and is printed on gloss cover paper stock.
ALSO, we're offering the original "Makina Exclamation G" CD itself, 14-tracks of dance music mixed by DJ DEPATH in the best Japanese underground music tradition. To make it even better, the cover jacket is SIGNED by Hiroyuki Takahashi himself! Check it out! You can sample the album itself below!
From the artist of HYPERSONIC music club! Hiroyuki Takahashi's original cyber characters come to life in this deluxe full color 26 page illustration book. Now is your chance to own this visually stunning item, originally printed in limited quantities for sale at 2014 summer Comic Market in Japan.
From the artist of HYPERSONIC music club! Hiroyuki Takahashi reveals his unique creative process in this book which collects black and white sketches and line art for his original characters in a 64 page softcover book. Now is your chance to own this visually stunning item, originally printed in limited quantities for sale at 2014 winter Comic Market in Japan.
The amazing retro-game themed promo video for TORIENA and M7kenji's "Pulse Fighter" gets the deluxe treatment in this DVD-ROM containing a wealth of video and musical extras. Contains the full Pulse Fighter PV, rough cut, and outtakes, along with six bonus remixes of the "Pulse Fighter" song, and pixel data. Also includes a full color booklet featuring art by TORIENA herself. Exclusive from MADMILKY RECORDS. Compatible with PC and Mac. DVD package is signed by TORIENA herself!
MEME NOISE is the new EP by TORIENA featuring vocals by Kyun-Kun. Five tracks of stunning, futuristic chiptunes dance pop, including multiple versions of the title track. SIGNED BY TORIENA! Support the artist!
----
NOW, as we prepare to dive deeper into the world of HYPERSONIC next week, here are the main links to keep track of!
hypersonic-music-club.tumblr.com (All art, bonus features)
hypersonic-comic.tumblr.com (story pages only, presented in standard webcomic format)
HYPERSONIC music club on Twitter (Updates, RTs of cool Japanese stuff)
HYPERSONIC music club on Crunchyroll Manga
Hiroyuki Takahashi on facebook (The artist himself!)
STAY HYPERSONIC, FIND THE MYSTERY FREQUENCY, AND SEE YOU NEXT WEEK!
------
Patrick Macias is editor in chief of Crunchyroll News and Otaku USA magazine. He is also the author of Paranoia Girls webcomic.