"Social conditions in Japan have shifted to a state where 'otaku' has been widely accepted"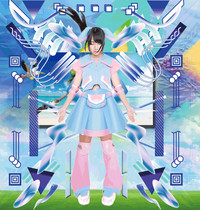 While artist Hiroyuki Takahashi is working on the next story update of the HYPERSONIC music club webcomic, it seems like a good time to introduce another visionary artist who is now emerging out of Japan's subcultural scene: Kinokopink.
Kinokopink is a costume maker and art director who was an early pioneer in combining otaku culture with cutting-edge street fashion. Nowadays, he creates stunning costumes for a range of idols and musicians including "chiptunes girl" TORIENA. (Believe me, if anyone were to make a HYPERSONIC music club costume, Kinokopink would be our first choice). So enjoy the interview and pictures, all featuring costumes by Kinokopink, below!
(Costume for idol Kana Tuduki)
HYPERSONIC: What's been your life experience with otaku culture? Have you always been a fan of anime and manga?
Kinokopink: My older brother was a light novel and (shooting game) Touhou otaku, so I've been close to doujinshi comics and game culture for a long time. Eventually, I started collecting anime and manga that I was interested in.
How did you become interested in fashion?
I'm working on many costumes now, so I shouldn't say I'm making REAL CLOTHING, but I got interested in this field when a classmate girl praised my fashion when I was in middle school. I think that was the beginning for me.
(Cover for "Parallel Universe Magical Planets" by Uchu Amagawa, art direction by Kinokopink)
Only a few years go, Akihabara culture and Harajuku street fashion could not have been further apart and neither influenced the other. But now, it's common to see anime characters and accessories in both places. How did this crossover happen?
It's very difficult to answer about Akihabara as a fashion genre since I have to talk about various contexts from many directions and sort them out.
One point is that social conditions in Japan have shifted to a state where "otaku" has been widely accepted (or looks accepted).
Also, there was a shop called 5okai (pronounced gokai) that was around from 2010 to 2011 in Akihabara. It was an important boutique that closely connected fashion to aspects of otaku culture, such as anime and idols. For instance, sold and archived clothing made using anime character bed sheets as a textile fabric and clothing using patterns inspired by various anime characters.
(Kinokopink in 2013, photos by Tokyo Fashion. His personal style has since evolved.)
Do you think that the connection between otaku culture and fashion culture will continue to grow?
I'm not sure whether a culture that has already grown will grow more. I think it's natural to say that artists and designers outside Japan will approach this space more, since Japan will get more attention because of the Tokyo Olympics in 2020.
(Costume for idol Chanmomo)
How do you think Japanese street fashion will evolve?
I can't make a sweeping statement since every cultural context, including street fashion, is subdivided, but we can't expect a major evolution of a context like "otaku x street".
(Costume for Chanmomo)
What are your thoughts on the Japanese government's Cool Japan program?
Not cool japan.
(Costume for idol Idol Younapi for live concert at Sanrio Puroland, with special guest Cinnamon)
How did you get into costume design?
I can't think of any specific event, but maybe I just wanted to avoid cushioning the process of making clothes. I like to make the whole process simple, like "Design→Manufacture" instead of going through many troublesome steps in between, since I don't have much physical strength and I'd like to manufacture clothes while I'm enjoying the process.
(Costume for "Chiptunes girl" TORIENA circa 2014)
Can you talk about your method for making a costume? How do you approach the job, with what materials, what ideas inspire you?
When I'm in charge of the overall design, I try to use new materials or shapes, because that's more fun and I won't lose interest. If client gives me specific requests, I try to follow them and give my ideas also since every person knows his own business best.
What are the important factors to keep in mind when making a costume for a musician or idol performer?
Onstage performers tend to sweat a lot, so I try to sew high-absorbency and quick-drying materials inside.
(Costume for TORIENA, 2015)
What can you tell us about the costume you made for TORIENA? What was that process like?
She just specified the colors she wanted, so I designed and chose the materials freely. We've known each other for a long time so the process went smooth even without having too much communication.
Can you recommend some idols, visual artists, or musicians that you are currently interested in?
I like a Japanese New Wave (DEVO-like) idol group called "You'll Melt More!" (pronounced "yurumerumo)". I especially like the sounds they make. I'm also interested in PUNPEE and In the blue shirt.
(Costume for idol Anochan)
Finally, if you had unlimited resources, what would be your dream project?
I enjoy high-context and super academic stuff, but I personally would like to do something pop that everyone can enjoy and have fun with. For example, I would like to provide a classroom (or a space) to pop culture artists I like, and let them express themselves freely. It would be fun if I can create space in a school. I also would like to do a fashion show, since I've never done that before.
(Pictures from Kinokopink's first solo exhibition)
Kinokopink links
---------------------------
NOW, as we prepare to dive deeper into the world of HYPERSONIC next week, here are the main links to keep track of!
hypersonic-music-club.tumblr.com (All art, bonus features)
hypersonic-comic.tumblr.com (story pages only, presented in standard webcomic format)
HYPERSONIC music club on Twitter (Updates, RTs of cool Japanese stuff)
HYPERSONIC music club on Crunchyroll Manga
Hiroyuki Takahashi on facebook (The artist himself!)
-------------------------
HELP SUPPORT HIROYUKI TAKAHASHI AND HYPERSONIC MUSIC CLUB! STUFF FOR SALE!
The amazing cover art for the "Makina Exclamation G" CD is reproduced on this limited-edition high-quality print by HYPERSONIC artist Hiroyuki Takahashi. The artwork is 11" x 17" size and is printed on gloss cover paper stock.
ALSO, we're offering the original "Makina Exclamation G" CD itself, 14-tracks of dance music mixed by DJ DEPATH in the best Japanese underground music tradition. To make it even better, the cover jacket is SIGNED by Hiroyuki Takahashi himself! Check it out! You can sample the album itself below!
From the artist of HYPERSONIC music club! Hiroyuki Takahashi's original cyber characters come to life in this deluxe full color 26 page illustration book. Now is your chance to own this visually stunning item, originally printed in limited quantities for sale at 2014 summer Comic Market in Japan.
From the artist of HYPERSONIC music club! Hiroyuki Takahashi reveals his unique creative process in this book which collects black and white sketches and line art for his original characters in a 64 page softcover book. Now is your chance to own this visually stunning item, originally printed in limited quantities for sale at 2014 winter Comic Market in Japan.
The amazing retro-game themed promo video for TORIENA and M7kenji's "Pulse Fighter" gets the deluxe treatment in this DVD-ROM containing a wealth of video and musical extras. Contains the full Pulse Fighter PV, rough cut, and outtakes, along with six bonus remixes of the "Pulse Fighter" song, and pixel data. Also includes a full color booklet featuring art by TORIENA herself. Exclusive from MADMILKY RECORDS. Compatible with PC and Mac. DVD package is signed by TORIENA herself!
MEME NOISE is the new EP by TORIENA featuring vocals by Kyun-Kun. Five tracks of stunning, futuristic chiptunes dance pop, including multiple versions of the title track. SIGNED BY TORIENA! Support the artist!
STAY HYPERSONIC, FIND THE MYSTERY FREQUENCY, AND SEE YOU NEXT WEEK!
------
Patrick Macias is editor in chief of Crunchyroll News and Otaku USA magazine. He is also the author of Paranoia Girls webcomic.