The new storytelling project by Mugi Takanka continues!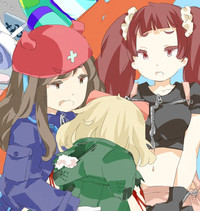 Mugi Tanaka's kawaii sci-fi storytelling project PARK Harajuku: Crisis Team! returns this week as the battle with the alien Scoopers finally reaches its dramatic climax, but all is not well for the shop girls as Kotoko goes down for the count. Enjoy some new story and art below along with a peek at the PHCT! event going on in Tokyo right now!
In case you are just joining us, PARK Harajuku: Crisis Team! is a collaboration with between Mugi Tanaka and the PARK store in Harajuku and it is exclusive to Crunchyroll! For more information about the project, check out the previous links here on Crunchy News!
To read the previous chapters, check out the PARK Harajuku: Crisis Team! updates on Tumblr. Now here we go!!!
---
So what else is going on? Well, we're happy to say that PARK Harajuku: Crisis Team! is getting a major push right now as part of a new wave of products and an in-store event happening right now at the PARK store in Tokyo, Japan (on display until 11/24)!
Below are some highlights of the new items on sale based on our characters and story along with pix featuring model Mochizou. We promise to find a way to make these products available to folks outside of Japan soon!
Visit PARK's official site for lots more info and cool pix of the new Crisis Team! character goods.
That's it for our installment this time, but expect more artwork and story from Mugi Tanaka and the PARK Harajuku gang next week.
In the meantime, sign up and follow our rather remarkable SNS links!
Crisis Team! on Crunchyroll Manga
BONUS! PARK Harajuku: Crisis Team! iPhone and Samsung Galaxy smartphone wallpapers! Download FREE here!
-------
Patrick Macias is editor in chief of Crunchyroll News & Otaku USA magazine.
He is also the writer of HYPERSONIC music club, Paranoia Girls, & PARK Harajuku: Crisis Team!