Chapter Two now in production!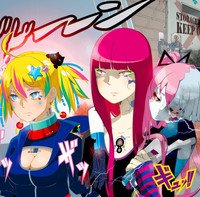 Chapter One of Hiroyuki Takahashi's original webcomic for Crunchyroll, HYPERSONIC music club, reaches its dramatic conclusion this week as VAL and LANYA make a momentous decision regarding the fate of their friend COSIMA. The seeds for Chapter Two are planted, along with some new pics and info, down below!
For those of you just joining us, HYPERSONIC music club is artist Hiroyuki Takahashi's first original webcomic and is exclusive to Crunchyroll (although you can read it here and here, too).
Our story is set in the year X85X, at a school for young wayward cyborgs who are prone to partying and playing loud music when no one is looking. This time though, they may have gone a bit too wild, because a trio of entities known as the Extra Dimensional Demon Girls have shown up to spoil the fun. music club wins the first battle, but beloved member COSIMA is left in a terrible state. Now, just the smoke begins to clear, MISS NYXX, the all-too-strict school supervisor says everyone should work together to save COSIMA and defeat the Demon Girls. But the answer she gets may not be the one she's hoping for...
----------------------------------------
WOW! THAT'S IT FOR CHAPTER ONE OF HYPERSONIC MUSIC CLUB! Thanks for everyone who supported this project, enjoyed our comic, bought our merchandise, left comments, and just plain paid attention! You're all honorary members of music club now!
So what can we tell you about Chapter Two of HYPERSONIC music club? Well, it's definitely coming: it's been given the greenlight, we have a detailed story outline (created in collaboration with a professional Japanese anime and manga scriptwriter), and Hiroyuki Takahashi is set to begin drawing as soon as he gets the new script. The presentation format will be a little different than Chapter One, but you'll still be able to read HYPERSONIC on Crunchyroll. Without wanting to be too much of a cryptic soothsayer, late 2015 or early 2016 seems like a likely start date, so follow HYPERSONIC on Twitter, Tumblr, and Instagram for the latest updates! In the meantime, we will continue to post HYPERSONIC related stuff on Crunchyroll News when inspiration strikes!
We would have liked to have concluded Chapter One, and to have begun Chapter Two, a little earlier, but team HYPERSONIC got busy with our galaxxxy collaboration goods. As of now, the HYPERSONIC jacket is totally sold out. But a few T-shirts still remain (literally, only a few…). If you're thinking of picking one up. Now's the time!
HYPERSONIC music club T-shirt by galaxxxy
Product Description

Boom! "HYPERSONIC music club", Crunchyroll's original webcomic, makes the leap to limited-edition clothing courtesy of Japan's #1 pop fashion brand galaxxxy! Personally designed by artist Hiroyuki Takahashi, the HYPERSONIC music club T-shirt features a stunning full-color two-sided print pattern adorned with characters and images from the HYPERSONIC comic! Unisex, one size fits all! Pair it with the HYPERSONIC music club Jacket for maximum impact!
Length 76cm (29.92 inch)
Shoulder width  52cm (20.47 inch)
Width of garment 57cm (22.44 inch)
Sleeve length  21.6cm (8.50 inch)
--------------------------------
Now that Chapter One has wrapped, we proudly present all the story pages of HYPERSONIC music club to date below: in full color, and free, from your pals at team HYPERSONIC!
-------------------------
Finally as yet another bonus, here's some additional pics from the HYPERSONIC music club x galaxxxy launch event in Tokyo held on 11/7, a landmark in HYPERSONIC history as our very first apparel items were unleashed on an unsuspecting world! All pics come via our pals at Tokyo Fashion. Oh, what a night!
Above: Anime voice actress Yuu Asakawa (also the voice of Vocaloid LUKA) is our pick for the eventual voice of Demon Girl PARSON... HYPERSONIC music club: the anime? Well, stranger things have happened before!
---------------------------------
NOW, as we continue to expand the world of HYPERSONIC over the next few weeks and months, here are the main links to keep track of!
hypersonic-music-club.tumblr.com (All art, bonus features)
hypersonic-comic.tumblr.com (story pages only, presented in standard webcomic format)
HYPERSONIC music club on Twitter (Updates, RTs of cool Japanese stuff)
HYPERSONIC music club on Crunchyroll Manga
Hiroyuki Takahashi on facebook (The artist himself!)
STAY HYPERSONIC, FIND THE MYSTERY FREQUENCY, AND SEE YOU SOON!!
-------
Patrick Macias is editor in chief of Crunchyroll News & Otaku USA magazine.
He is also the writer of HYPERSONIC music club, Paranoia Girls, & PARK Harajuku: Crisis Team!